Welsh advertising under the spotlight
A lecturer at the School of Creative Studies and Media at Bangor University has won a grant to study professional advertising practice in Wales.

Dr. Andrew McStay has been awarded the £2500 by the Strategic Insight Programme (SIP), which builds partnerships between universities and external companies.

Andrew McStay will be working with SBW Advertising at its Cardiff branch.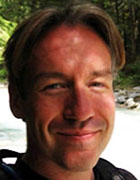 "The aim is to identify the shape, scope and nature of advertising practice in Wales, and understand the opportunities and challenges of working in advertising in Wales," he said.

"I also hope to improve relations between the academic sector and the advertising industry; and get to grips with agency thoughts about creativity and new media developments."

Andrew McStay's new book, Privacy and Philosophy: New Media and Affective Protocol, was published last month.
Publication date: 9 July 2014