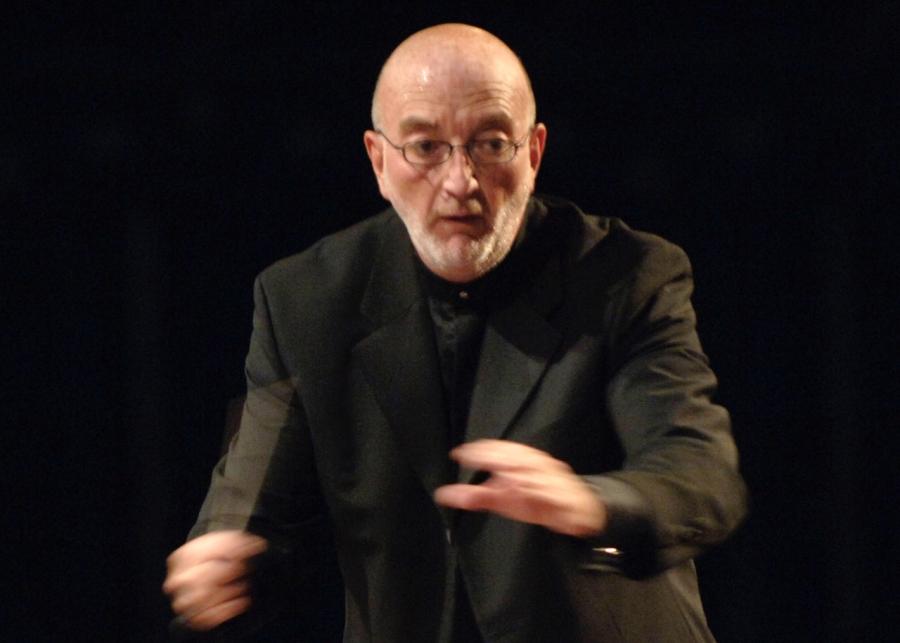 It's a great delight to be associated again with music at Bangor University. The new role is in fact not all that new. The very first full-time Director of University Music was E.T Davies, who took on the work in 1921, hence the Centenary Celebrations of Music 100 in 2021-22. My role echoes that appointment in 1921. I shall be responsible for conducting the University Symphony Orchestra and the Chorus, both ensembles consist of members of the University (students & staff) and of the community. Additionally, it has been incredibly stimulating to work with my colleagues to draw-up a programme of events for the centenary year which will both reflect The School of Music's past in Bangor, its present and, of course, its future. 
Essentially, my view has been that every concert and musical event during the coming academic year should reflect, in some way, the music that has been part of the last century in Bangor.
We have therefore asked every professional orchestra that will visit the University to include a work by a composer that has been associated with Bangor. Additionally, I will be programming, with the University Symphony Orchestra, music that was premiered in 1921 and 1922, and this centennial idea spills over to specially devised programmes of chamber music which students will perform.
A particularly exciting event will feature Façade by William Walton. Music in Bangor is now closely associated with Drama, and Façade will be an opportunity for our drama students to perform Edith Sitwell's zany poetry, as set by Walton at the beginning of the 'Roaring Twenties'. Walton's contemporary, Kurt Weill, gives us a completely different Weimar Republic view of the 1920s in the same concert. In the present century, are we - as the decade develops, I wonder - about to experience a similar 'Roaring', or will we descend into the political darkness of the Weimar Republic? It seems an apposite debate to have in our centenary year.
When I left Bangor at Christmas 1979, I joined the BBC in Cardiff where I worked for Radio 3 and Radio Cymru. Much of my R3 output was associated with contemporary music, and I travelled to festivals in Europe, New York, Peru, Brazil and Argentina to make programmes for the network. During that time, I gave up playing the trumpet, which is where my professional musical life had started as a freelance professional in London. I worked more as a conductor. I spent ten years as the Music Director of the Liverpool Choral Union and as conductor of Côr Meibion y Traeth (Anglesey). It was a pleasure to be asked to conduct the National Eisteddfod Choir on two occasions, and particularly satisfying to conduct a work by Richard Elfyn Jones - Goroesiad Cenedl - which I had commissioned, together with Sant Teilo by William Mathias, which featured Bryn Terfel as soloist.
I left the BBC in 1998 and spent twelve months as a Visiting Professor of Choral Conducting in Oklahoma City. A number of great opportunities came up, where I travelled to give choral and conducting masterclasses in Russia and Argentina. On my return to the United Kingdom, I began what was in effect, a brand-new career - I was appointed Director of Theatr Ardudwy (Harlech) and then Chief Executive Officer of the Llangollen International Musical Eisteddfod. I stayed in Llangollen for 7 years before becoming the London 2012 Olympic Games, Creative Programmer for Wales. This was a five-year stint which I left to become Director of Tŷ Cerdd, the Centre for Welsh Music at the Wales Millennium Centre (Cardiff).
I retired from all this administration stuff in 2017, learned to ride a motorbike, raised pigs (in Trawsfynydd, not Cardiff!) and re-connected with conducting, becoming the Music Director of Cantorion Menai (Anglesey).
I have many fond memories of Bangor and my time at the Music Department as a young lecturer. A vivid memory is working with William Mathias who was my boss. He was inexhaustible, always encouraging of the teaching and the performances that I wanted to do. He did raise an eyebrow on the occasion when we took our graduating students up Snowdon overnight to see the sun rise over the borders… and he did wonder whether the University College Singers should travel to Wells to give a concert at the Cathedral there, one very wintry February. We were, subsequently, snowed-in!
I would probably think twice now about conducting Beethoven's Missa Solemnis and Vaughan Williams's Sea Symphony, but the confidence of youth is a wonderful thing. I do remember singing tenor in a performance of Elgar's Dream of Gerontius for John Hywel, and on April 2, 2022, we bring the Centenary Celebrations to a suitable climax with a performance of this great work. Gwyn Hughes Jones, Leah-Marian Jones and David Kempster are our soloists, and I'm hoping to persuade as many as possible of our alumni who have kept up playing to join us. It would be fantastic so see as many of our 'old' students as possible.
Gwyn L Williams
Cyfarwyddwr Cerddoriaeth y Brifysgol
Director of University Music