Myf.cymru, a scheme led by Bangor University in partnership with Grŵp Llandrillo Menai, Aberystwyth University and the University of Wales Trinity Saint David, launches in the Senedd today (26 May 2022) at an event sponsored by Llyr Gruffydd MS and accompanied by radio and television presenter Trystan Ellis-Morris.

Partners in the myf.cymru scheme recognised that there was a lack of dedicated online resources for students through the medium of Welsh, which meant that the Welsh language was not treated equally. As a result, funding was attracted by the Higher Education Funding Council for Wales (HEFCW) to create a website, a Welsh-medium app to support students with substance misuse in partnership with Helping Groups to Grow Developments Ltd, a series of five podcasts entitled Sgwrs? and a network of Welsh speaking therapists who support students in further and higher education colleges across Wales.

Led by Bangor University, the resources provide a sound foundation for reaching out to Welsh-speaking students and encourage them to start a conversation about mental health and wellbeing in their mother tongue.

Mair Rowlands, Director of Bangor Students' Union, said, 

"What makes myf.cymru unique is that students have been involved in the development of the resources every step of the way, as well as contributing their own original content. By having students taking ownership of the resources and taking part, we hope that more Welsh speaking students will want to participate, share their experiences, and openly discuss issues around mental health and wellbeing."

Mabon Dafydd, President of Bangor's Welsh Students' Union (UMCB), said, 

"Student mental health and wellbeing has received significant attention from the Welsh Government over the last three years, and NUS Wales is calling for a long-term strategy to support the mental health and wellbeing of post-16 students. If a long-term strategy is formulated, a balanced Welsh-medium provision should be available to students throughout Wales."

Trystan Ellis-Morris is the presenter of the podcast series Sgwrs? which covers a wide range of topics affecting students' mental health and wellbeing including body image, experiences of coming out as LGBTQ+, and adjusting to university life after lockdown.  Joining Trystan are students from all over Wales, counsellor Endaf Evans from Bangor University, and familiar faces of Welsh language media and social media such as Jess Davies, Mari Gwenllian (H.I.W.T.I.), Ellis Lloyd-Jones, Ifan Pritchard from the band Gwilym, Non Parry and Tara Bethan.

Trystan says he hopes that listening to the podcasts will encourage more open conversations about student mental health and well-being issues through the medium of Welsh.

He said, 
"It has been a privilege to listen to the students who have participated. It's not easy to talk in public about your feelings, or what it's like to live day-to-day with a mental health condition. They are all really inspirational and I hope the podcasts will spark further discussions amongst students."

Llyr Gruffydd MS, who has spoken publicly about his own mental health challenges in the past, said that mental health and well-being issues need to be a higher priority for policy makers and society at large.

"I am pleased to support the myf.cymru scheme and the work done to date, especially in ensuring the relevance of the resources through student engagement and participation. The research shows that students are at higher risk of developing mental health conditions when they start college or university, so it is vital that Welsh language students have access to resources and services in their mother tongue and to ensure a student voice when developing services.
The launch event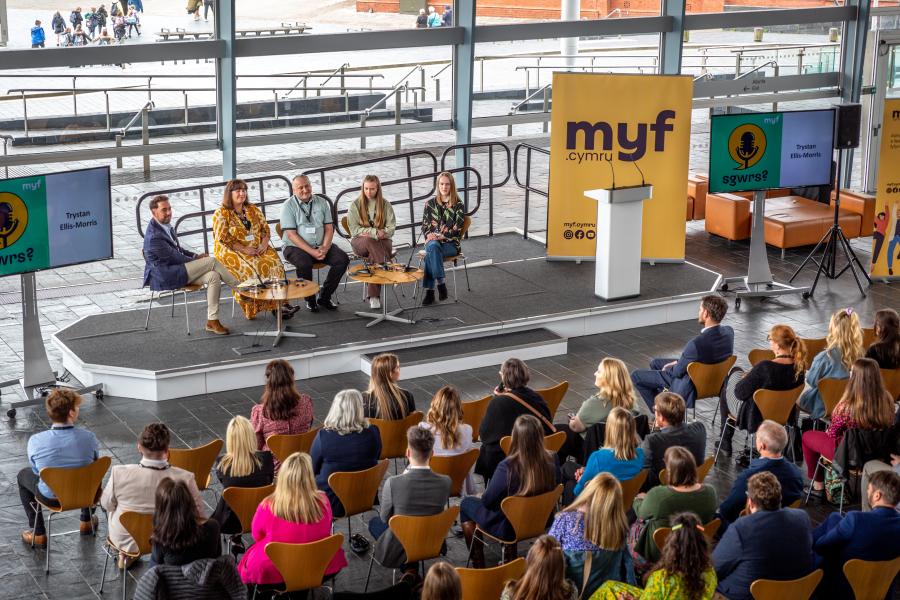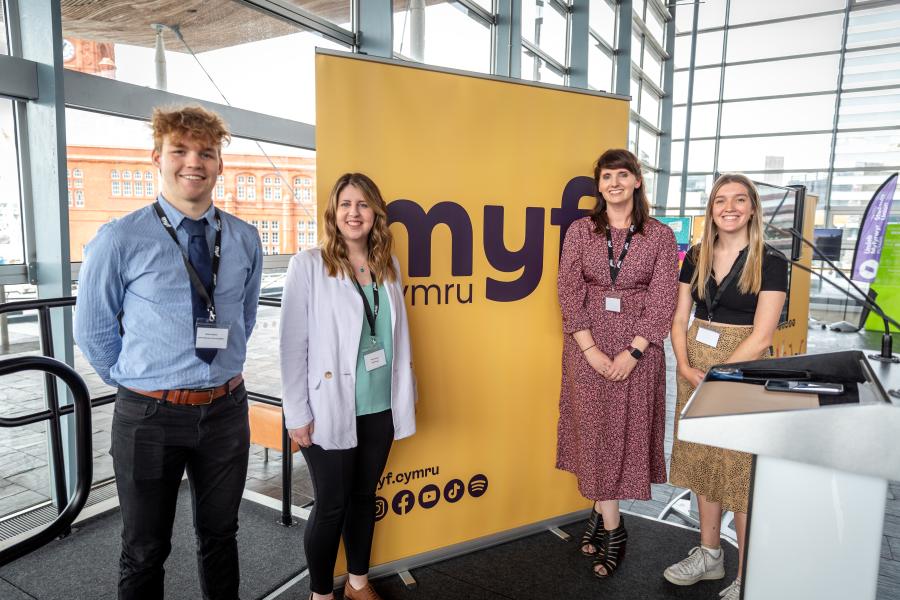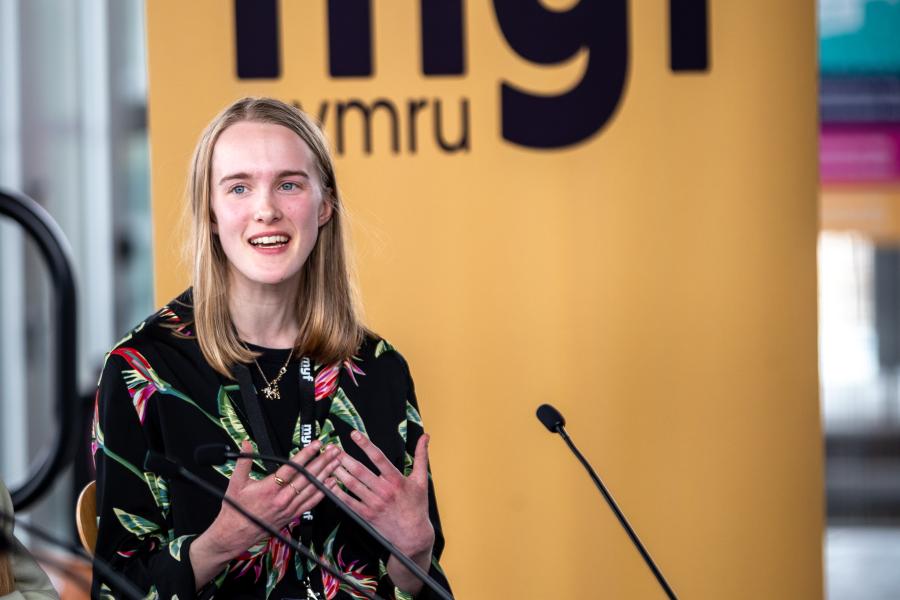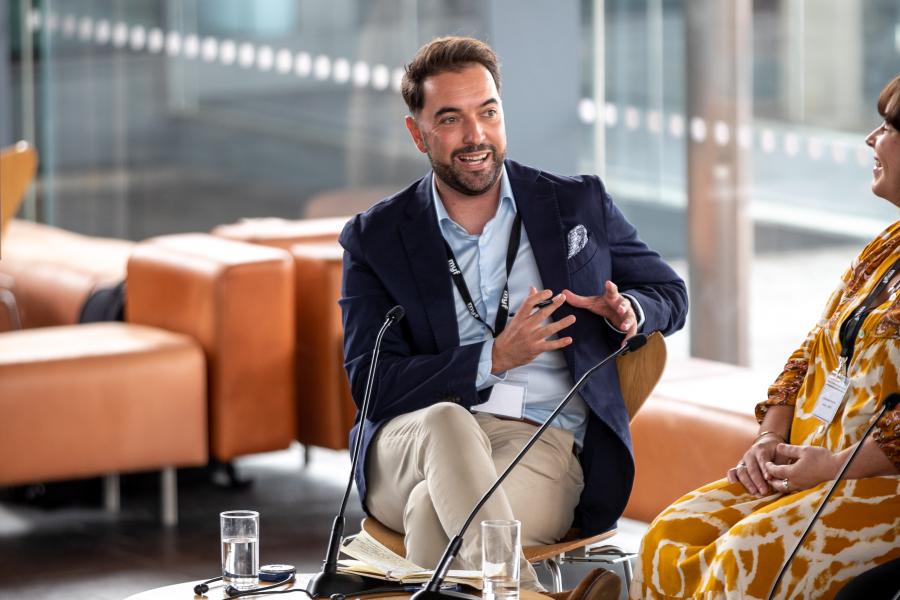 I am passionate about mental health issues and believe that protecting students' mental health and wellbeing through prevention and early intervention is vital, to ensure that students reach their potential and maximize their academic and social experiences.