The Quiz sees three brave Bangor students taking on their professors in a battle of wits on the light hearted quiz show hosted by comedian Steve Punt.
The show, recorded at Bangor University with comedian, Steve Punt as Quiz master, has rounds varying from General Knowledge, to a subject-specific face-off and a 'Highbrow / Lowbrow' round, where students can challenge their professors on popular culture. 
Representing the students are: Fede Celyn Thomas, who is studying Film Studies; Callum Cocks, studying Zoology with Herpetology and Education student Ben Wilkinson.
Aiming to preserve the good name of Bangor University's academic community are: Nathan Abrams, Professor of Film; Dr Anita Malhotra, herpetology expert and a reader in zoology and Dr Sarah Olive, a senior Lecturer in Education.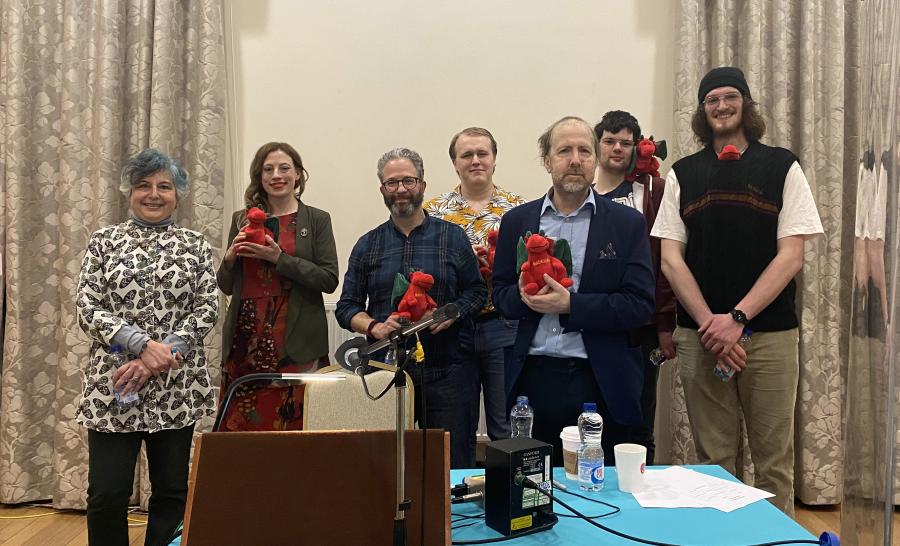 Ben, who has just completed his second year at Bangor University said,

"I took part in The 3rd Degree because I have a love for partaking in and creating quizzes myself. I am also a fan of Steve Punt so I couldn't miss the chance to meet a comedic legend. I have never done a quiz like this before but found it a really enjoyable experience. The support from the student and teacher teams were amazing. The audience also helped put people's nerves at ease and seeing faces from different departments of the university really surprised me. I learned that making a quiz show isn't as easy as it may seem and that some second recordings have to be done to get everything perfect. If anyone has the opportunity to partake in something like this I highly recommend it."

Dr Anita Malhotra commented,

"It was a fun evening, providing an insight into the inner workings of radio shows, as well as a chance to meet the host Steve Punt (an icon of the British comedy scene!) and to test how quickly I can dredge up esoteric facts and respond in the "fingers on the buzzer" round."

Dr Sarah Olive commented, 

'I've always loved a good general knowledge quiz, so I jumped at the opportunity. And worried later! To the extent that I pulled out all the Education Studies readers I use with students to cram. Meeting the production team and host, Steve, was a pleasure & they immediately put us at ease on the day. As a relative newcomer to Bangor, I'd only seen my colleagues' work in the bulletin, so it was wonderful to meet them in person. Our cross-disciplinary collaboration was strong! The pandemic has meant limits on getting to know students in fun & informal settings, so making the show was a boon in terms of sitting around a couple of tables sparring &, more importantly, joking with them. The dragon mascots we were given by the university were much coveted in my department & mine is working hard helping showcase my research, teaching & cultural exchange in Japan (#draiginjapan)'. 
Don't forget to listen in to see how Bangor University's academics and students fare!