Enterprise By Design Goes Digital and Thrives Through Trying Times
Despite digital-only challenges, Enterprise by Design once again produces winning business concepts from 11 teams with excitement from collaborating companies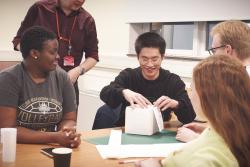 Students collaborating during week 2 of Enterprise by Design's ten-week challenge. Bangor University's multidisciplinary programme, Enterprise by Design, looked a little different this year. The challenge brings students together from seven Schools and subject areas within the University to work together in teams over a 10-week period.
This year the students responded to real world briefs set by partner businesses, Anglesey based sea salt company Halen Môn and climbing gear manufacturer DMM, based in Llanberis. 
After six weeks of meeting in person, however, the tough decision was made to become completely virtual in light of the current COVID-19 crisis.
Despite the difficulties, students performed excellently, and really proved that Enterprise by Design works well as a process, not just as a physical meeting. Of course, the teams had to figure out a way to present their ideas remotely. 

For the penultimate three weeks, the teams met with the academic experts in virtual rooms to find out how to successfully showcase their ideas digitally in 4 minutes.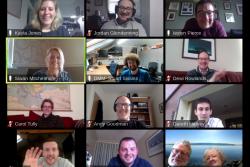 The judges for Enterprise by Design deliberate virtually on the winners Ultimately, Team Tulip stood out to the judges with their concept of Nestegg, a salted egg product made with a variety of Halen Môn's signature salts.
Halen Môn founder Alison Lea-Wilson commented on the winning team: "[they] stood out as the one that had best researched the market and [had] come up with a credible plan and branding for this new (to the UK), innovative product. We look forward to talking with the team about a potential future collaboration".
The winning team received a prize of £2,500 to potentially expand their concept, whilst the second and third place runners up won £1,000 each.
The digital finale showed just how much determination and hard work went into 2020's Enterprise by Design. The competition continually provides students with real world, employable skills for the future and companies with ideas that have the potential to grow into marketable opportunities.
Pryderi Ap Rhisiart, the Director of M-Sparc who was on the judging panel for the evening, said of the event, "the quality of the presentations from this year's EBD cohort was outstanding, moreover each team showed skills that employers will require in industry. The ability to collaborate, to think outside the box, to communicate with confidence like the EBD teams is invaluable." 
This year's programme has proved that that Enterprise by Design can collaborate, create, and thrive even through trying circumstances.
To learn more about Enterprise by Design, visit API's blog here: api.wales 
Watch the video on Enterprise by Design's 10 week process