Becca Barnard and Darrell Button are both studying Bangor University's Publishing and Book Culture MA degree.
Their first book is Beneath the Poisoned Roots: An Anthology of Dark Fantasy and Fables. 
The student publishers called for and edited themed creative writing from among Bangor' University most talented Creative Writing graduate students, selecting works by Alys Hall, Bow Soane, Jennifer Atzori, and Alastair Raper. 
This is the first publishing house established in the first year of the Publishing and Book Culture postgraduate degree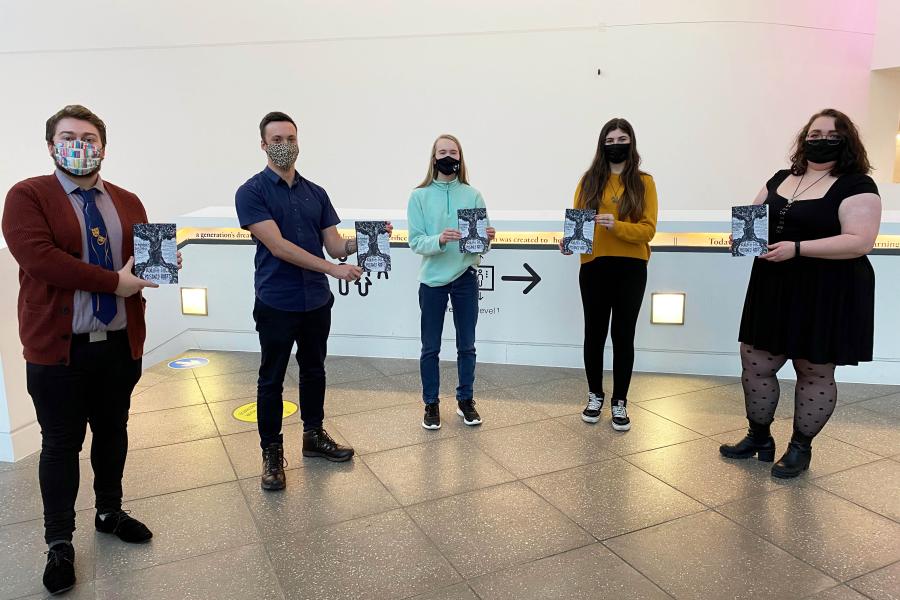 Eben Muse, who leads the MA Publishing and Book Culture degree explained:
"Becca and Darrell took the module assignment of publishing a book and used it to form their own publishing company, Barnard & Button Publishing. They sought out the best writing from the University's creative writing community and published it in a professionally edited and designed book that is available for purchase around the world." 
Publishing a book requires editing, design, organisational and people skills, and the launch of this book demonstrates that these students have all of them."
Becca studied Creative Studies, while Darrell studied Creative & Professional Writing at Bangor University and both were keen to study the world of publishing.
Becca and Darrell hope to continue with publishing once they have completed their MA.
Becca explained: 
"My goal is to start my own publishing house. I'd like to focus on authors rather than the content and want to focus on women writers, LGBTQ+ writers and others who may struggle to have a voice or are advertised as having that voice. Other than that, fiction is my passion."
Darrell added:
"I was looking for a further degree, and thought the publishing MA was perfect. I'd decided publishing was that the profession I wanted to get into, using my skills of creative writing, helping other people creating books- it's a great process to be involved in."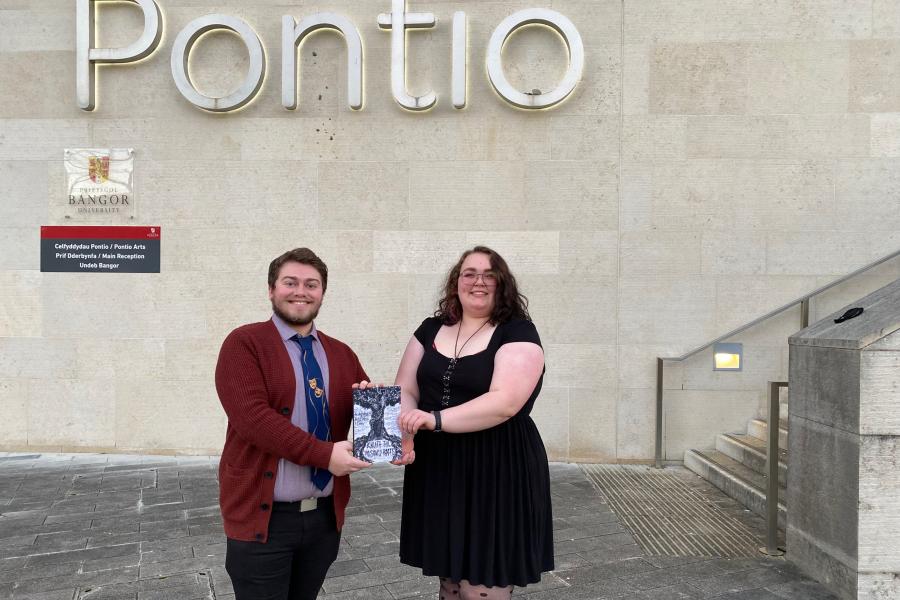 Darrel then explained that the first module on the course was to work on creating a short story collection- next semester they will be learning how to publish an e book- and Darrel and Becca have chosen to create a publishing house as their Masters' thesis, and feel that they are already part of the way there.
Illustrations and cover design were provided by Daria Wolf, Sarah Teece who are also graduate students at Bangor University. The book is currently available for purchase on Amazon: Beneath the Poisoned Roots: An Anthology of Dark Fantasy and Fables.