Welsh international athlete awarded Llew Rees Memorial Prize 2022
Bangor University has awarded its annual award for sporting achievement, the Llew Rees Memorial Prize, to Welsh international athlete, Ffion Roberts.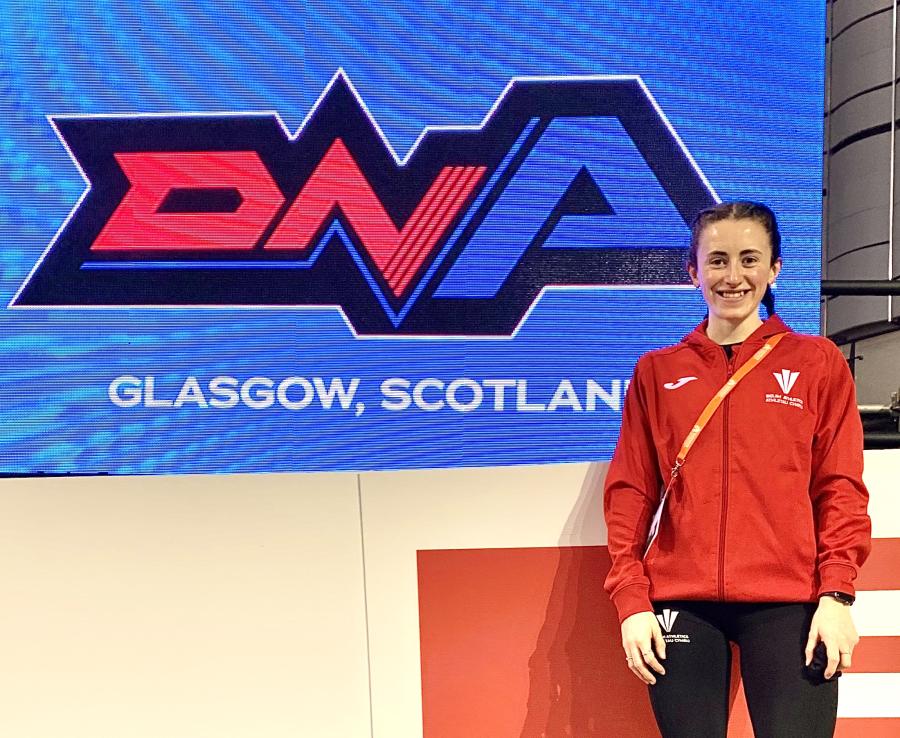 The Llewelyn Rees Memorial Award of £750 commemorates the University's Director of Physical Recreation between 1961-72. It is awarded to the student who has made the greatest contribution to raising the profile of Bangor University sport by their achievement at a national or international level.
Ffion is studying for a masters degree in physiotherapy. A 400m Welsh international athlete, she has represented Wales individually and in a relay team. Inspired by the London 2012 Olympics, Ffion became fascinated watching it on the television and joined the Colwyn Bay Athletics Club, training often and competing most weekends.
Ffion's first major achievement was getting her first Wales vest in 2017 running in the Celtic Games, she recalls, "having the invitation through, asking me to represent Wales was a big achievement. I am grateful for all the international matches since then allowing me to represent Wales and compete at a high level."
In 2018, Ffion won both the indoor and outdoor Welsh Junior Championships and went on to gain podium positions at senior level.
Upon receiving the annual prize, Ffion said, "I'm very honoured to receive this award. The support I have had from Bangor University regarding my athletics has been amazing, and I would like to say thank you to everyone involved. This award will hugely help facilitate my training by covering equipment, costs of coaching, assisting with competition costs, and being able to travel further for high level competitions to improve personal bests.
"My short-term goals are to carry on improving my personal best, gain more international vests for Wales and represent Bangor University. In the long-term, I hope to represent Wales at the Commonwealth Games in 2026."
Iona Williams, Bangor University Sports Development Manager, said: "Despite the pressures of studying on a post-graduate course, Ffion finds the time to train hard and competes most weekends. Since arriving in Bangor in January she has taken the athletics world by storm by winning silver medals at the British Universities and Colleges Sport championship and in the Senior Welsh Championships. We are honoured to present her with the 2022 Llew Rees Memorial Prize."