Having just performed as part of a stellar line-up in alternative underground dance music area of Glastonbury, the world's largest music festival, internationally renowned DJ and record producer Sasha, donned an academic gown today (Tuesday 5 July), to receive an Honorary Degree from his hometown university in Bangor, North Wales.
Accepting the Honorary Degree, the Bangor-born DJ revealed that his first gig was at Bangor University Student's Union- and that it led to a career which has taken him around the world!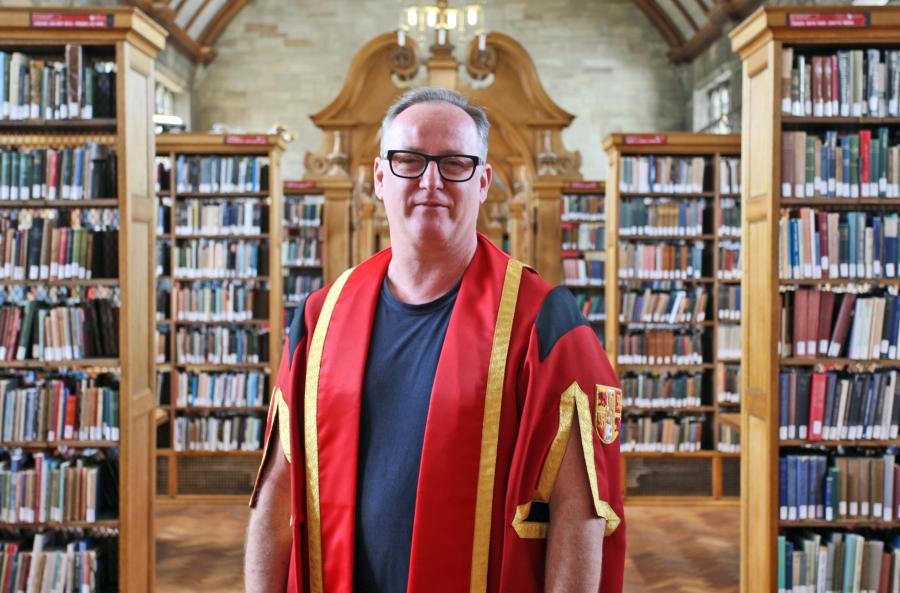 Born to parents who both graduated from Bangor University, Sasha has retained links with the wider Bangor community and has returned to the area to DJ over many years, playing the University Students' Union Academi night club as recently as November 2021.

Sasha is known for his live events and electronic music as a solo artist as well as his collaborations as Sasha & John Digweed. He was voted World Number One DJ in 2000 in a poll conducted by DJ Magazine and he stayed in the Top Five for eight consecutive years and the Top 10 for 11 consecutive years. He is a four-time International Dance Music Awards winner, four-time DJ Awards winner and a Grammy Award nominee. 
Professor Andrew Edwards, Pro Vice-Chancellor, presented Sasha for his Honorary Doctorate at the University saying, 
"It gives me great pleasure to present a Bangor-born Sasha for this honour. Sasha has made an outstanding contribution to culture, language, music and the arts through his creative work. An honorary degree of Doctor of Music is well-deserved."

Addressing three years of music, drama and performance graduates from Bangor University, Sasha said,

"Thank you so much to the University for this really humbling, beautiful award. I didn't expect to come back to Bangor University to be picking up a degree since it was the place where I did my very first gig in the Students' Union and it's taken me around the world!"

Congratulations to all today's graduates on actually getting through your education. My advice to all you is: find your obsession, follow your heart and it will take you to wonderful places."