Ruby has research and teaching links with Bangor University's School of Human and Behavioural Sciences and, in particular, with the University's Centre for Mindfulness Research and Practice. She has attended Mindfulness retreats, using her experiences to understand more about how mindfulness can provide therapeutic support for people living through depression and anxiety.

Bangor University is presenting an Honorary Doctorate to Ruby Wax for her role in highlighting and discussing mental health.

On receiving the Honorary Degree Ruby said:
"It's an honour to receive this honorary degree, I was not good in school, so my teachers would be astounded this was happening, as would my parents.  

Addressing the nursing graduates, she said,

"I think that nurses are the heroines and heroes, particularly now, after the pandemic, the next pandemic  could be one of trauma so I really think this is the time that nurses will need help and we should not underestimate the power of mental health on physical health.  

Talking about her main message for the day, she added: 

"As I've always said to anyone with mental health issues, my message is to not be ashamed. The statistics are one in four, and if anyone had any other physical disability, they would tell everyone and they would be supported and there would be no shame. We've got to stop the shame, we can't stop the mental illness."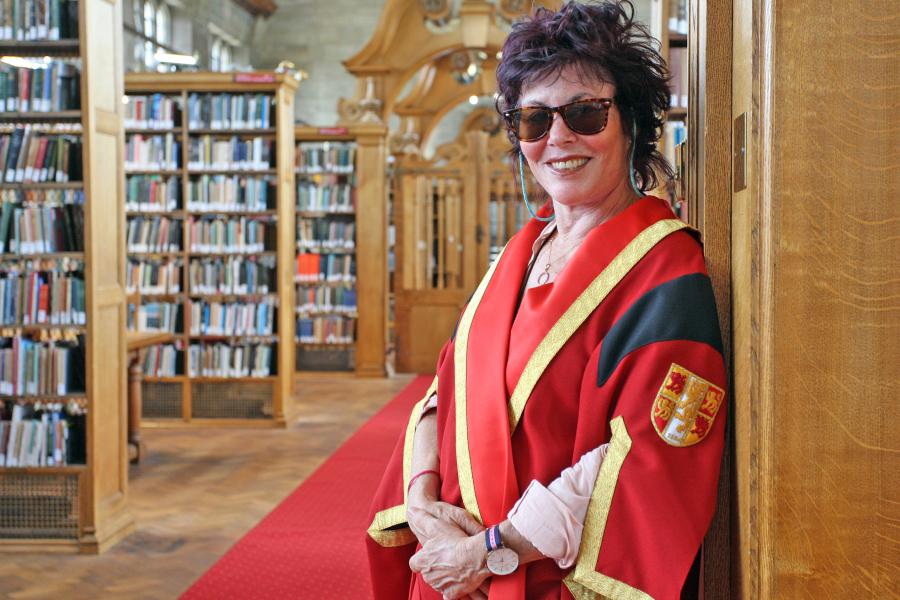 Professor Oliver Turnbull, Deputy Vice-Chancellor presented Ruby Wax for her Doctorate and said,

"Ruby has brought support for mental health to a new audience, discussing complex matters of brain and mind, in an accessible and often hilarious way. But always with the serious point that we need to remove the stigma that mental health illness still carries.

Indeed, Ruby has spoken often about her own experiences with depression, and her openness has undoubtedly, significantly and positively, supported so many people who otherwise have faced mental ill-health challenges on their own and in silence." 
Ruby took part in seminal research at the University in 2015 where neuroscientists scanned her brain, before and after her attendance at a Mindfulness retreat. This revealed, consistent with related findings, that consistent mindfulness practice can help a person to better cope with distressing emotional events. Work of this sort provides a robust scientific basis for why mindfulness may offer so many advantages for those experiencing mental health challenges. 
In 2014 Ruby spent time with Professor Rebecca Crane, the Director of the Centre for Mindfulness Research and Practice – to gain information for her book A Mindfulness Guide for the Frazzled, which went on to become a Number One best-seller.
Ruby has written several other texts about mindfulness and mental health, and has amassed an army of celebrity supporters, including Stephen Fry, Davina McCall, Goldie Hawn and Russell Brand, as well as world-leading academics, such as Professors Jon Kabat-Zinn, Mark Williams, and Daniel Siegel. 
She is an ambassador for the British Neuroscience Association, for the mental health charities, MIND and SANE. She also is the president of Relate, and Chancellor of the University of Southampton.