Mary Sutherland (1893-1955) was the world's first female Forestry graduate in 1916. She had a distinguished career in forestry in the UK and New Zealand and is one of the founding members of the New Zealand Institute of Forestry in 1927. A Mary Sutherland Memorial Redwood can be found in Whakarewarewa Forest.
Mary's portrait is by the contemporary Welsh artist, Ceredigion-based Meinir Mathias.
Meinir said "I feel very honoured that it is the first portrait of a woman by a female artist commissioned to hang in the Council Chamber alongside artists such as Kyffin and Whistler. I was also really pleased to have a close look at the wonderful and inspiring mural by Edward Povey."
Dr Becky Heaton unveiled the portrait during the day in which she received her honorary degree. Becky said, "Even 70 years after Mary Sutherland graduated, it's not always easy being a woman in forestry – as I well know! I hope it is getting easier but can only imagine how hard it would have been for Mary, she had no role models. I want to pay tribute to her and to two female foresters, Dr Pat Denne and Dr Christine Cahalan from Bangor who were my role models and inspired me. I hope that Mary's achievements continue to inspire female foresters today."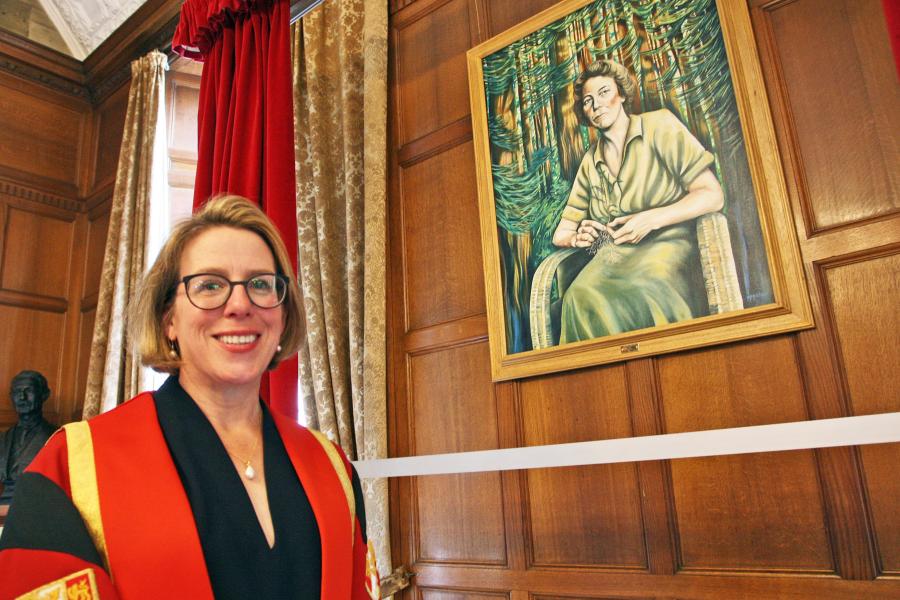 Professor Oliver Turnbull, Deputy Vice-Chancellor, said, "We are proud to pay tribute to Mary Sutherland and Sir Robert Edwards, who made hugely significant contributions in their fields and had lasting impact on the world. These paintings, created by talented artists, will form a visual reminder of their pioneering work."
Both alumni portraits hang in the Council Chamber.
Related stories: