This year's exceptional research students who have made an outstanding academic, cultural or social contribution to the University are Beverley Pickard-Jones and Veronica Diveica, both studying psychology at the School of Human & Behavioural Sciences.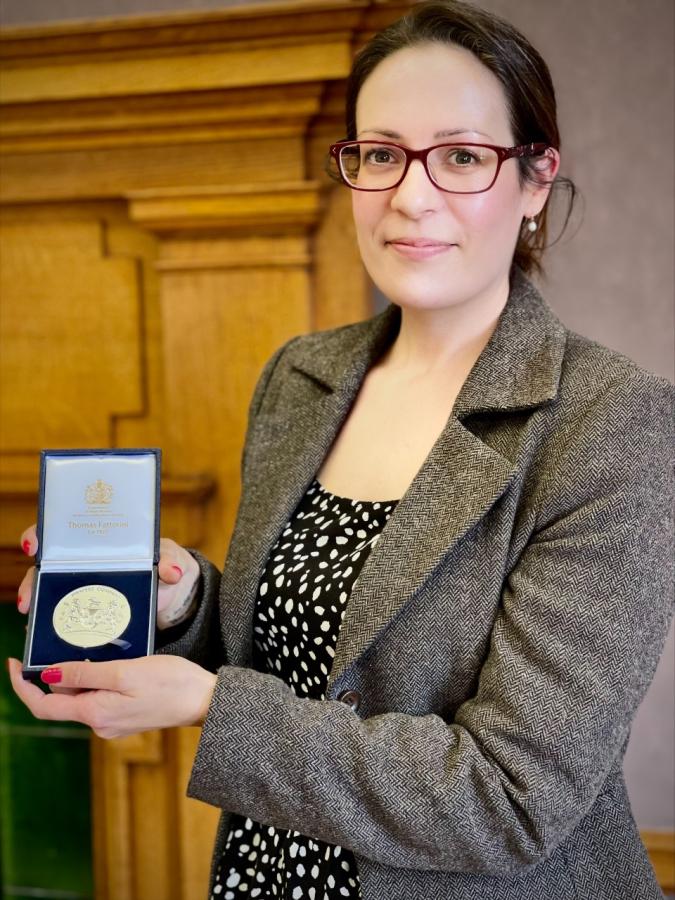 Beverley Pickard-Jones, who received the Drapers' Silver Medal. Beverley from Llandudno-Junction is passionate about teaching, having achieved a Fellowship of the HEA and received internal and external awards during her PhD. She is developing an academic reputation by publishing in high-impact peer-reviewed journals and the lay press, presenting at conferences, and initiating international collaborations. She has also devised a novel experiment, which could potentially become a clinical tool to assess depth perception deficits. In addition to her research, she has delivered several employability initiatives to prepare undergraduates for careers in industry and has delivered specialist seminars on professional careers and statistical methodologies for PhD students.
Beverley has initiated public engagement activities to increase the impact of her research and raise Bangor University's profile by engaging with community groups and creating opportunities for the public to participate in, and learn about, current research. She also co-organised two PhD conferences and organised a series of writing sessions for PhD students at the University. As a course representative, she has also represented fer fellow students over a number of years.
Dr Ayelet Sapir, Beverley's PhD Supervisor commented, "Beverley is a highly valued member of our School. Her contribution is enormous, having achieved recognition for excellence in teaching, independently supervising students, and organising employability seminars for students, demonstrating her potential to become a highly-regarded educator and researcher."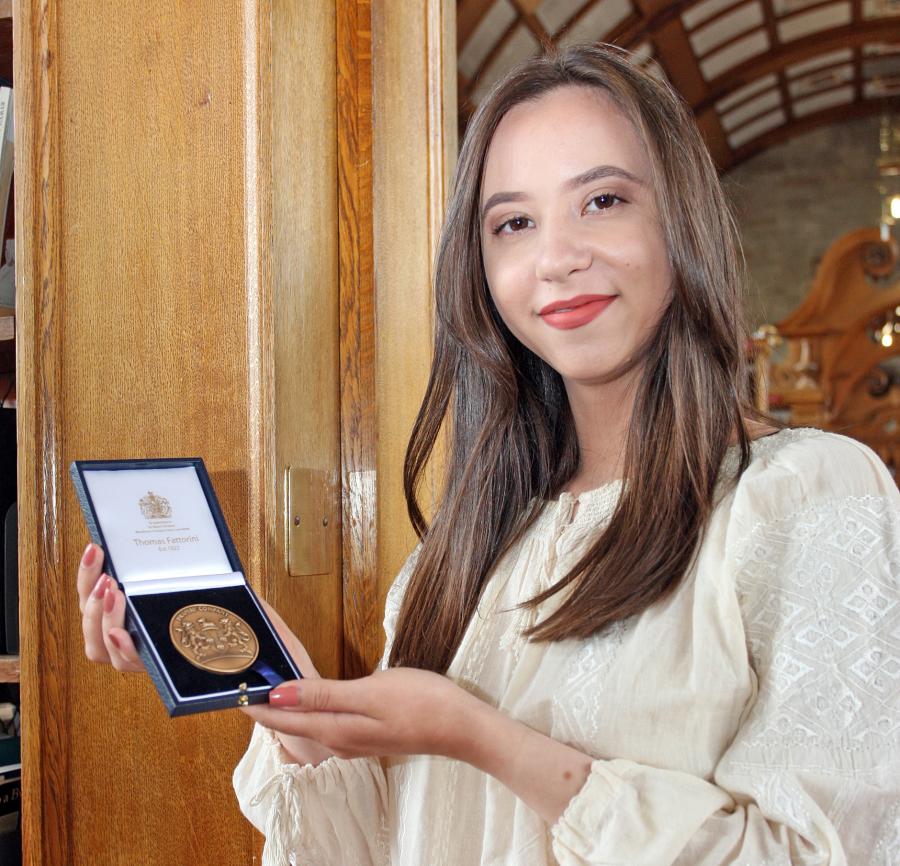 PhD student Veronica Diveica, from Romania was awarded the Drapers' Bronze medal.
Veronica has already won a prestigious competitive ESRC Wales DTP PhD studentship and other grants, including a scholarship from the UKRI-Mitacs Globalink Doctoral Exchange program to undertake a research internship in Canada. She has authored three research papers in high-impact peer-reviewed journals to date, presented at international conferences, and been awarded three institutional academic achievement awards as well as a national level postgraduate prize from the British Neuropsychological Society.
Veronica works hard to support peers and represent the wider early career researcher community in the UK through voluntary service to local and national level committees. She contributes to the learning community at Bangor, acting as an academic writing mentor, a dissertation superviso and a graduate instructor, and she won the Bangor University Student-led Teaching Awards' 'Postgraduate Teacher of the Year' Prize in 2022.
Supervisor, Richard Binney commented, "Veronica has already proven herself a remarkable researcher with great potential to become a leader in neuroscience, as well as an inspiring mentor for future generations. The hallmarks of her research projects are cutting edge methodology and high standards of transparency and rigour. She has become a highly skilled researcher with an inter-disciplinary outlook towards basic and applied science, and she has already forged several international collaborations that reflect this. Veronica is also an exemplary scholar in terms of her commitment to providing voluntary service to the academic and student communities."
Caroline Bowman, Interim Head of the School of Human and Behavioural Sciences commented: "To have both Medals awarded to students from our School illustrates the exceptional abilities and commitments of our students, we are delighted to have such a vibrant post-graduate community at Bangor!"