Bangor University showcases research to Chief Scientific Adviser for Wales
Bangor University welcomed the new Chief Scientific Adviser for Wales, Professor Jas Pal Badyal FRS, today on the first stop on his tour of Welsh universities.
The Chief Scientific Adviser is keen to find out how Welsh universities are producing world-leading scientific research to address some of the biggest challenges facing humanity, including climate change, environmental degradation, renewable energy, food security, healthcare and rising social inequality.
The University showcased some research focused on the environment, human and planet health and wellbeing and sustainability.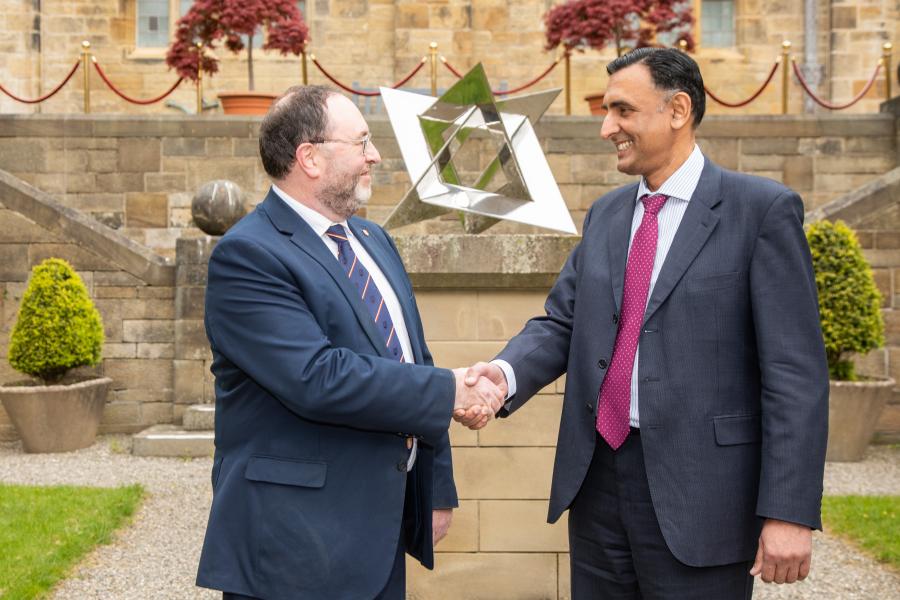 Researchers who are generating real-world impacts joined a round-table discussion with Professor Badyal. Topics included: the widening of the Bangor University-led research into COVID-19 wastewater testing research to include other communicable diseases, work in conservation impact evaluation and the impact of conservation interventions such as biodiversity offset and protected areas, research into environmental issues such as climate change, and research carried out in environmental biotechnology and the development of sustainable packaging and construction materials.
The Chief Scientific Adviser and colleagues were also updated on the latest developments at the Nuclear Futures Institute, the Digital Signal Processing Centre and the establishment of the North Wales Medical School.
Professor Badyal also visited Bangor University's wholly-owned science park M-SParc on Anglesey to discuss moving research into market with science-based businesses in North Wales including M-SParc tenants Animated Tech and EcoMetrics and housing association Adra, as well as representatives from Ambition North Wales, Menter Môn and the Isle of Anglesey County Council.
Paul Spencer, Pro-Vice-Chancellor for research and innovation said, "This was a great opportunity to host Wales' new Chief Scientific Adviser and to showcase Bangor's world-leading research and its benefit to society."
I have been delighted to meet with scientific researchers during my visit today and learn more about Bangor University's ambitions for translating scientific research to provide economic and societal benefits for the people of Wales and beyond.