Two organisations have pledged to a collaboration which will focus on driving innovation in a bid to boost growth and help companies thrive in North Wales. 

M-SParc, Wales' first Science Park owned by Bangor University, and AMRC Cymru have today signed an agreement to allow them to work in partnership. This will enable collaboration at all levels between the two organisations, ensuring companies receive wider access to support, skills, expertise and facilities that can drive their business forwards. 

​​M-SParc is the first dedicated science park in Wales, with a focus on low carbon, energy and environment, digital, and life science sectors. AMRC Cymru, which is part of the University of Sheffield Advanced Manufacturing Research Centre (AMRC) innovation cluster and a member of the High Value Manufacturing (HVM) Catapult, is a £20m state-of-the-art applied research centre, which was fully funded by the Welsh Government.  ​​​ 

​​​The team at AMRC Cymru helps foster collaborations and partnerships between industry, academia and government, to deliver cutting-edge research, development and innovation for better products and processes; and helps drive forward sustainable manufacturing technologies for net zero, creating the vital step-changes needed in the low-carbon transition.​​ 

Collaborating on projects, working to secure joint funding, and focusing on outreach and skills, the memorandum of understanding (MoU), will allow M-SParc tenants and the wider ecosystem to benefit from the engineers' expertise and the valuable connections AMRC Cymru provides.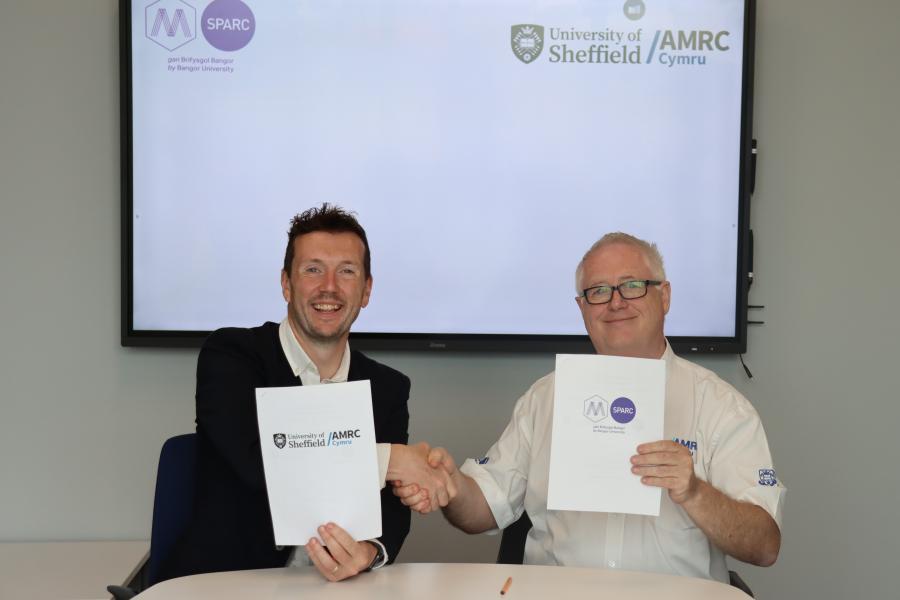 Pryderi ap Rhisiart, Managing Director of M-SParc said,  "We are thrilled to announce the new collaboration between M-SParc and AMRC​ Cymru​, which represents a significant milestone in our efforts to drive economic growth and diversification in North Wales. ​​​ 

​​"​By bringing together two powerhouses of innovation, we are confident that this partnership will unlock new opportunities and accelerate progress in key areas such as advanced manufacturing and high-tech engineering. We look forward to working closely with AMRC​ Cymru​ to leverage our collective expertise, resources, and networks, and to create lasting impact for our region and beyond." 

The work both organisations undertake to upskill the younger generations, from workshops to training opportunities, can now branch out further, bridging both sides of north Wales and ensuring local young people are ready and able to take advantage of locally created careers in science, technology and engineering​. ​​    

M-SParc tenants will benefit from access to high-spec manufacturing facilities, and knowledge-sharing between the two sites. ​Agritech is a key area for collaboration between both organisations, with M-SParc operating the AgriTech.Cymru​​​​ cluster group and AMRC​ Cymru​ developing specialist knowledge and capabilities in the field. Events and cluster links will also be a key part of the agreement, widening the reach of the clusters and leading to further collaboration and opportunities.   

​​Andrew Martin, head of food and drink at AMRC Cymru, said, "We consider this strategic partnership to be vital to drive advanced economic growth across North Wales, and to ensure that high value manufacturing knowledge and skills are delivered to key strategic businesses across all regions.​  ​​​ 

​​"​We are looking forward to seeing this collaboration kick-off and ​give tenants​​ ​even more possibilities.​"​​

To read more about both organisations involved with the project, you can find out more about M-SParc here:  www.m-sparc.com and read more about the AMRC Cymru here:​ amrc.co.uk/cymru