New Welsh language podcast shares experiences beyond a dementia diagnosis
A new Welsh-language podcast in the Am Iechyd (About Health) series by Bangor University's College of Human Sciences, funded by the Coleg Cymraeg Cenedlaethol, shares experiences of life beyond a diagnosis of dementia from different perspectives.
The podcast will be officially launched on Wednesday, 28 June at a dementia awareness event in Galeri, Caernarfon.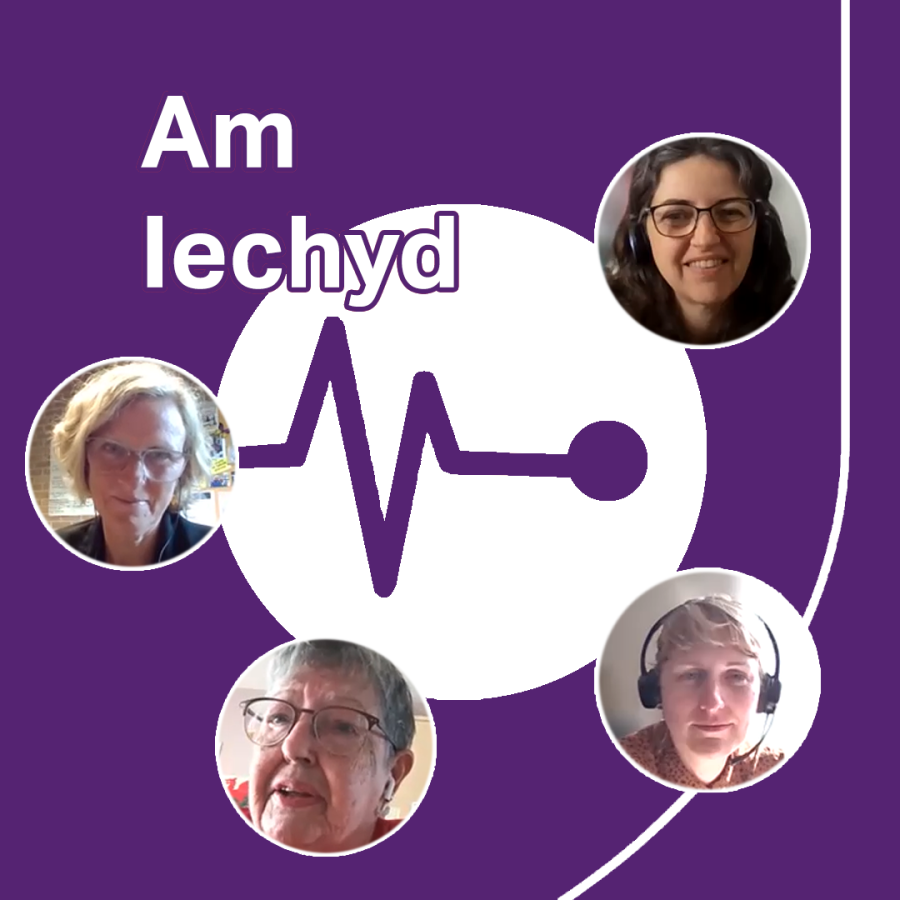 "Our hope is that the podcast will be an eye-opener for everyone, and encourage more people to be more open about dementia and how to get the support that is so important," explains Dr. Catrin Hedd Jones, who is a lecturer on the Master's degree in Dementia at Bangor University.
Glenda Roberts from the Pwllheli area went to the GP at 56 after her family realised that she was having issues with her memory and a number of other things, including the way she spoke. As part of the podcast, she says, "Why someone gets the diagnosis of dementia, it's quite a shock, especially if you're relatively young like I was.
"It's a lot more than forgetting where you put your purse. All your senses change, and you don't know why, if someone doesn't tell you that it might happen as part of the condition.
"If I wanted to cross the road, I can't tell if a car is coming close to me, how fast it's going, whether it is going to stop to let me cross the road. The concentration it takes can be very tiring."
Having the right support including professional carers has been crucial for Glenda to be able to go out and enjoy life while living with the condition, and now she is collaborating with schools and Bangor University to talk about her experience as a person living with dementia, and helping to develop resources to provide useful information to individuals once they have received a diagnosis.
Rhian Green's mother also lives with dementia and the family, especially her father, supports her mother in living with the condition. In the podcast, she shares the family's experiences, saying:
"We try as a family, with the help of friends and services, to make sure she has as good a life as possible - the main aim is to make sure she is happy, as often as physically possible."
Having experienced her mother's dementia, third guest Emma Quaeck now leads Gwynedd Council's Dementia scheme, offering physical and social activities to people with dementia, and in the podcast she describes the provision available:
"Over the seven or eight years we've been running this scheme, I've learned so much about dementia by being with people who have been affected by dementia - the individuals themselves, but also the people who support them. That has been so valuable, and has led us to run the Dementia Actif program which tries to help people live as well as they can with dementia, in their communities."
The main message that comes from the discussion on the podcast is the need to try to de-stigmatise the condition and talk openly about how to support people living with dementia.
Rhian Green says, "It's incredibly difficult to recognise and cope with the possibility that life is going to change as a result of a diagnosis of dementia, but being open helps to de-stigmatise the whole thing and make it more 'normal'. Everyone with dementia has a right to be seen, a right to be heard and a right to have advocacy and stand side-by-side with everyone else in society and have satisfaction and pleasure from life."
One way Glenda does this is by offering advice on how to improve public spaces and shops and make them more dementia-friendly.
"There's a way around most things," she says. "You open one door, and another door opens after that. There are challenges and there's work to do, but don't ever think you're alone."
A handbook about how to make life a little easier after receiving a diagnosis of dementia is available here