Literature Wales' annual Welsh Book of the Year Awards celebrate talented Welsh writers who excel in various literary forms writing in both Welsh and English.

The Llenyddiaeth Cymru/ Literature Wales Awards were announced on 13 July, with Pridd by Llŷr Titus (Gwasg y Bwthyn) being announced the winner of the main Welsh Book of the Year Award as well as winning the Fiction Award. 

Books were awarded under four categories in each language – Poetry, Fiction, Creative Non-fiction and Children and Young People. The Barn y Bobl Golwg360 and Wales Arts Review categories also reflected readers' choices.
Welsh Language winner - Pridd by Llŷr Titus (Gwasg y Bwthyn)
In his short novel, Pridd, Llŷr Titus draws a raw but mesmerising of the life of an Old Man in rural Llŷn. Through the four seasons yesterday and today, sadness and joy and all life's untidiness flow through each other.  Over in the fields, old stones speak their wisdom. And the fox lurks.

Llŷr Titus graduated from Bangor with a First degree and MA in Welsh and a PhD in Welsh Language and Literature. He has made himself a name in the field of literature since winning  the Urdd Eisteddfod Crown in 2011 and the Drama Medal the following year. He has published three novels, Pridd, Anfadwaith and Gwalia, which won the Tir na n-Og prize in 2016. Llŷr is also a playwright; his play Drych was staged by Frân Wen, while he was still a student.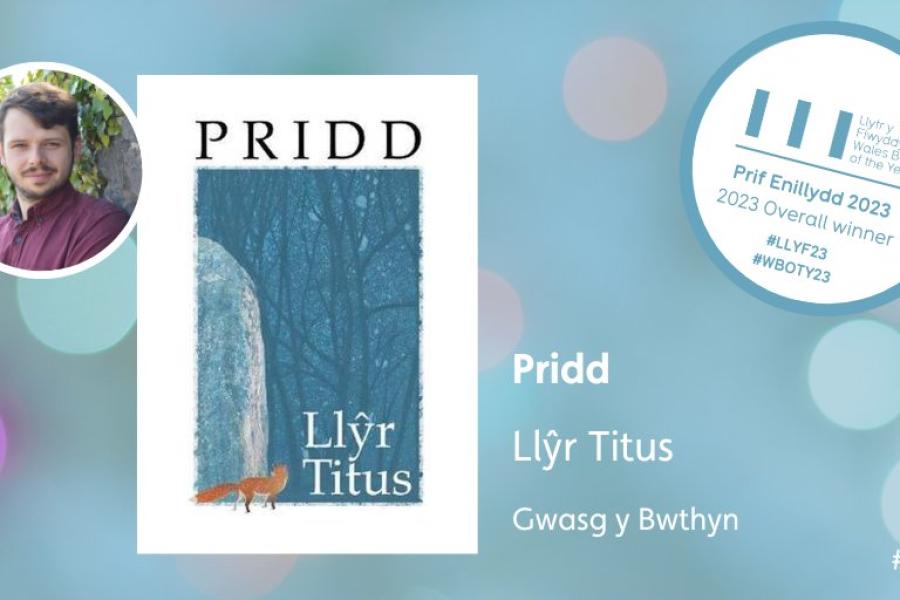 Creative Non-Fiction Winner - Cylchu Cymru by Gareth Evans Jones (Y Lolfa)
Gareth Evans Jones won the Creative Non-Fiction Award for his book Cylchu Cymru, (Y Lolfa).  The book is described as a collection of micro fiction which peaks into different locations in Wales, their stories, their history, their folk tales and magic.

Also a Bangor multi-alumnus, Gareth graduated with a first degree in Welsh and Religious Studies, an MA in Welsh & Creative Writing and a jointly supervised PhD in Religious Studies and Welsh. He has also come to prominence as an author of note. He won the Drama Medal at the National Eisteddfod in Conwy County in 2019 and again in the virtual AmGen Eisteddfod of 2021. He has published two novels, Eira Llwyd and Y Cylch, and has seen his play Ynys Alys tour Wales as a professional production.

Ruth Mcelroy, Head of the School of Language, Culture and Arts,

"We are pleased to see two of our former students in these important Awards. They are testament to the School's deep commitment to Welsh literature, which goes back decades. Readers in Wales will enjoy devouring these books, if they haven't already done so!"

We send our warmest congratulations to Llŷr and Gareth – we are very proud of the two of you!"

Dr Aled Llion Jones head of the Department of Welsh, said:

"It was a source of great pride for us in the Welsh Department to see five of our alumni shortlisted this year, and it is now great to celebrate the outstanding achievements of Llŷr and Gareth, and their presses. Congratulations to them. This is an opportunity to be proud of the publishing culture we have in Wales, and be reminded of the wonderful students we have in Bangor."