This week the Welsh Government Minister for the Economy, Vaughan Gething, visited M-SParc on Ynys Môn to announce Welsh Government Support and £2.5 million funding towards a second building for the innovative science park, continuing on the journey to create further economic opportunity in North Wales.   
The Minister was welcomed by Pryderi ap Rhisiart, Managing Director at M-SParc, to learn more about their continuing work to support Welsh innovation to thrive.  
M-SParc's recently announced and ambitious plans for a new, second building on site, M-SParc 2.0, follows a successful initial phase, with the first building now nearing full occupancy levels and attracting high demand since opening its doors in 2018. The ambitious new plan is backed and supported with £2.5 million in funding from Welsh Government. 
This funding means the ambitious project can now take its first step towards developing a facility focused on low and zero-carbon innovation, ensuring more companies are able to access office and laboratory space including a full suite of dedicated business support services. With a focus on supporting companies and research in the low-carbon sector, the Minister heard how M-SParc 2.0 will support the science park's mission to ignite ambition and innovation for a sustainable Wales.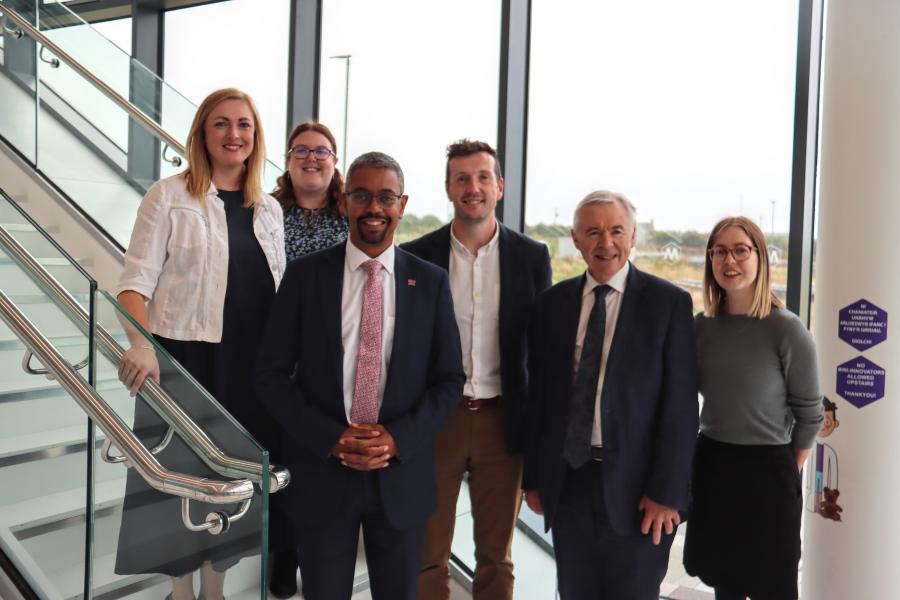 The Minister also learned about a recent visit to the prestigious MIT, part of a strategic partnership formed by the Welsh Government which focuses on fast-tracking the development of innovative concepts, helping those who take part to expand their work and reach a global audience.   
Welsh Government Minister for the Economy, Vaughan Gething said: 
"I was delighted to visit Ynys Môn and see innovation thriving at M-SParc. The Welsh Government is pleased to support the development of M-SParc 2.0. With this funding, M-SParc can expand further, create careers, and provide support to the companies based there. M-SParc is a hub for innovation and entrepreneurship under one roof. It was a pleasure to meet and hear from businesses who are benefitting for our partnership with MIT. I look forward to seeing further success on site in the years ahead." 
Adding to this melting pot of innovation, the Minister also discussed the value of the connection established between M-SParc and MIT. The Massachusetts Institute of Technology (MIT) is one of the world's top research and academic institutions, renowned for excellence in fields such as Technology, Engineering, Sciences and Leadership. M-SParc were able to share with the Minister how these sectors tie in perfectly with M-SParc's own areas of expertise, and how the Welsh Government backed programme has allowed M-SParc to take tenant companies and the wider ecosystem over to MIT to share knowledge and develop international connections.   
Many of the companies who attended the visit are continuing to work with MIT on various projects and programs, in sectors including Artificial Intelligence, showing the real value of the program for businesses. M-SParc also recently held a hybrid event live from Boston with Dr Phil Budden, a senior lecturer at MIT, over Haia, a platform created by an M-SParc tenant. Being able to access the Industrial Liaison programme via the Welsh Government will mean more events such as this will be coming up later in the year, involving MIT, M-SParc and its whole ecosystem, adding an additional and valuable benefit to businesses based at M-SParc.   
Pryderi, Managing Director of M-SParc said, "We are so pleased to be able to access this collaboration, which is and incredible opportunity for our tenants. All together, these latest announcements really contribute to our work of igniting ambition in the region, and to do this collaboratively is fantastic. It's what makes M-SParc the place it is—the home of innovation and opportunities. We cannot wait to see ourselves and our tenants grow as we expand on site too." 
Pro-Vice-Chancellor for Research at Bangor University, Paul Spencer said, "The University's global reputation for research and innovation provides an opportunity to attract low-carbon businesses to our Science Park – M-SParc. Crucially, the development of the site will stimulate demand, fulfilling the long-term goal of cultivating a thriving business and research community that will benefit the entire region. The Science Park's growth plans are a positive step in providing a platform to further showcase the expertise and talents in the area whilst demonstrating a strong commitment to the economy of North Wales." 
Since the news of the plans to have a second building on site was announced, M-SParc has held an 'Open Doors' community event, which was filled with positive reviews regarding the developments, and was an opportunity for M-SParc and tenants to inspire young people and their families about career opportunities in the region.  
If you have any queries about the development, or maybe just want to know more about some of the projects that M-SParc are working on, you can contact egni@m-sparc.com.