An early Suffragist, or non-violent campaigner for Votes for Women, and Peace Campaigner, Charlotte Price White, was commemorated with a Purple Plaque in Bangor today (16 July 2021).

Purple Plaques highlight women's achievements by improving the recognition of remarkable women in Wales. They seek to redress the low number of women included in Blue plaques. There are around 250 of these in Wales, of which, a small number commemorate the achievements of women.

In addition to being among the first women to study science at Bangor University, Charlotte Price White was a trail blazer in several areas. She was Secretary of the North Wales branch of the National Union of Women's Suffrage Societies (NWUSS) and was one of only two women from North Wales who walked to London as part of the 'Great Pilgrimage' to London by members of the NWUSS from across the UK.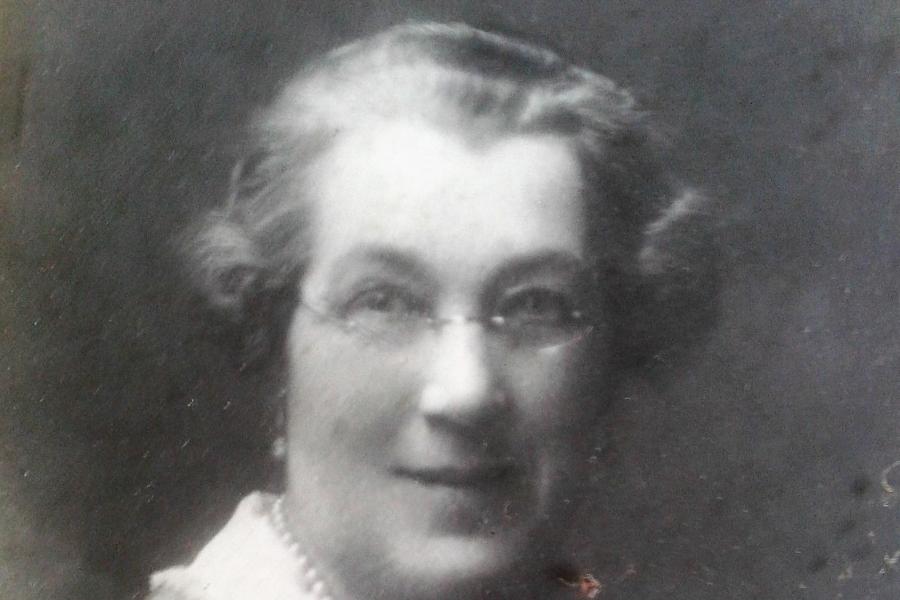 Purple plaque unveiled
Historian Annie Williams will be giving joint lecture with Neil Evans about the life of Charlotte Price White as part of the celebratory event. She said: 

"Mrs Charlotte Price White made an enormous contribution to Welsh women's history through her campaigning work for female suffrage, the peace movement and in public life as the first woman to be elected to Caernarvonshire County Council in 1926."

Neil Evans added:
"There is still much to be learned about Charlotte's life. But we know she devoted herself to women's rights, to world peace and to promoting education and the wellbeing of children. She was devoted to her family and to her community."

Mrs Charlotte Price White was also a central figure in North Wales branch of the Women's International League for Peace and Freedom (WILPF) and played a prominent part in the Great Peace Pilgrimage of 1926. The Pilgrimage travelled along seven different routes to reach London, where a large pageant was held at Hyde Park.

Charlotte Price White was the first woman to be elected to Caernarvonshire County Council and served from 1925 until her untimely death in 1932.  She was also among the first members of the Women's Institute. Established in Llanfairpwll in 1915, the organisation set out to give voice and a role for women in their communities.

A measure of her public profile in the society at the time is revealed by the fact that her family's wish fora small private funeral at her untimely death in 1932, had to be set aside in response to the sense of public shock at the death of such a prominent figure.

The unveiling of the Purple Plaque took place at 50 Upper Garth Road, the previous home of Charlotte Price White and family. Charlotte's grandson, Christopher Price White had the honour of unveiling the plaque.

Sue Essex, Chair of the Purple Plaques committee commented:

"Purple Plaques is a small voluntary organisation which is dedicated to remembering and celebrating remarkable women who have lived in Wales 

We so far have five plaques in different parts of Wales and will be adding three more this summer including the plaque for Charlotte Price White in Bangor. Our aim is to have purple plaques for women from all walks of life across the country 

There are so many women with inspiring stories who deserve to be remembered in Wales'
Purple Plaques is happy to work with anyone and any group that has a 'remarkable woman to be celebrated'."

On behalf of Bangor University, Professor Andrew Edwards, Pro Vice-Chancellor said:

"Bangor University is delighted that the life of Charlotte Price White is being recognised by the award of a Purple Plaque. A former student of the University, Charlotte was, and remains, an inspirational figure who made an immense contribution not only to the suffrage movement, but a range of other progressive social and political issues. She was, in the truest sense, a ground-breaker. Through her vision, bravery and dogged determination, she paved the way for successive generations of women to play a prominent role in political life."

Sian Rhiannon Williams, Historian and member of the Purple Plaque committee and Archif Menywod Cymru, Women's Archive Wales committee said:
"Purple Plaques Wales are delighted to celebrate the remarkable contribution of Charlotte as a pioneer for women in politics and to erect the plaque in her honour so that her work for women's rights, the peace movement and the local community can be recognised locally and throughout Wales."

The event is a collaboration between the Purple Plaque, Women's Archive Wales and Bangor University.  The event was followed by a Celebration include addresses at Bangor University's Prichard Jones Hall.

The celebration maintained Covid protocols.