Eight incarceration and escape films to watch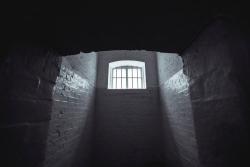 Image by Jimmy Chan via Pexels.comAs we practice social distancing and stay confined to our homes, here is a list of eight inspiring prison movies to watch during the 'lockdown'.
We asked Nathan Abrams, Professor of Film at the School of Music and Media for some recommendations for films about incarcration and lock-down situations... we're glad to say that his recommendations all have positive endings!
1. A Clockwork Orange (1971). In this controversial movie by Stanley Kubrick, Alex DeLarge is sent to prison but is released early to undertake an experimental treatment known as the Ludovico Technique. It is a form of aversion therapy based on the theories of prominent psychologist B.F. Skinner (who, incidentally, visited Bangor University).
2. Any film about Alfred Dreyfus. This French Jewish military officer was wrongly court-martialed and sentenced to thirty-five years on the notorious Devil's Island in French Guiana. Fortunately, his conviction was overturned, and he was released. There have been various onscreen fictionalizations:  Pathé made The Dreyfus Affair in 1899, followed by two Dreyfus movies in 1930 and 1931 respectively, The Life of Emile Zola in 1937,  I Accuse in 1958, Prisoner of Honor in 1991 and An Officer and a Spy last year.
3. Escape from Alcatraz (1979). Based on a real-life story, this film charts the story of what was alleged to be the only successful escape from the legendary Californian prison. It stars Clint Eastwood who meticulously executes and carries out the plan.
4. The Simpsons. In "Krusty Gets Busted," Krusty the Clown is wrongly convicted of armed robbery. When Bart and Lisa do their own investigations, they discover that the real culprit was his sidekick Sideshow Bob. Krusty later does a Prison Special.
5. Stir Crazy (1980). In this comedy, friends Gene Wilder and Richard Pryor are framed for a bank robbery. They escape via a rodeo. 
6. Midnight Express (1978). A notoriously brutal film about the true-life experiences of an American college student who was caught attempting to smuggle drugs but lived to tell the tale and escape.
7. The Shawshank Redemption (1994). This Stephen King adaptation is routinely voted in the top ten best movies ever made. Like Escape from Alcatraz, an inmate carries out an ambitious escape plan but also manages to touch the lives of his fellow inmates while incarcerated. 
8. Papillon (1973). Another true-life prison drama this time starring Steve McQueen, as a safecracker named 'Papillon' (French for butterfly) because of the tattoo on his chest. He, too, is wrongly convicted and sent to French Guiana from where he escapes.