Making the event a family celebration and even more special for Ms Waheed, her son, Ahmed Masoon Hassan, also graduated from the same university on the same day!
Ms Waheed graduated with a Batchelor of Science degree in Marine Biology and Oceanography from the University's world-renowned School of Ocean Sciences in 1996 having won a UK-Overseas Development Administration Scholarship to study at the Welsh University.
Since graduating, Zaha has made invaluable contributions to the Maldives in fisheries, marine sciences and disaster management. Among other achievements, she established a national platform for disaster risk reduction and enhanced community-based disaster risk management programmes in the wake of the devastating Indian Ocean tsunami of 2004.
Presenting Zaha for her Honorary Doctorate, Professor John Turner, Head of the School of Ocean Sciences at the University commented,

"Zaha Waheed is a role model for women in science and leadership, her career history is a testament to a commitment to improving the lives of people and the marine environment on which The Maldives so depends."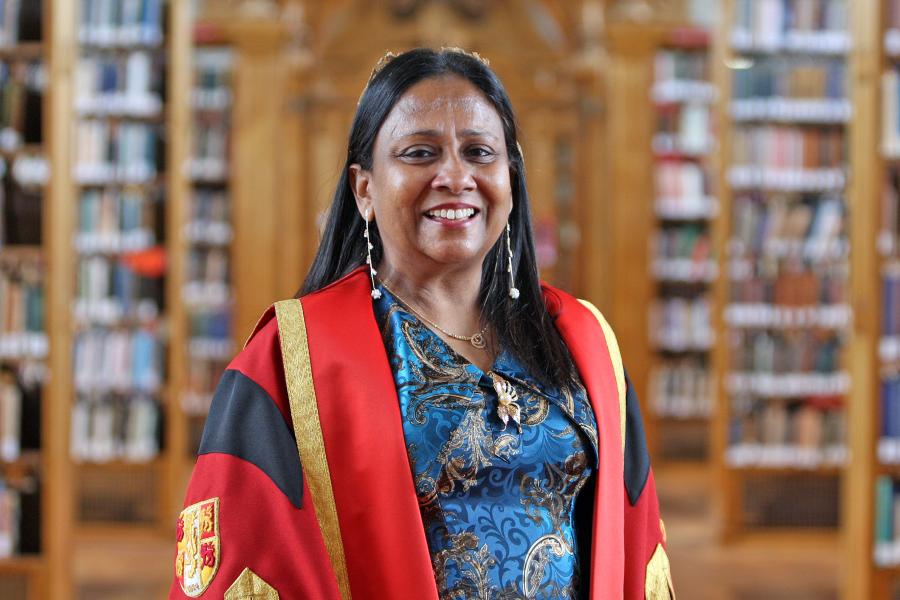 Zaha had this to say on receiving her Honorary Doctorate, 

"The quest for knowledge for ocean sciences that brought me to Bangor kick started my career in marine research and allowed me to claim a place for women in a culturally masculine industry. Years of professional experience and public service empowered me to lead ocean governance and fisheries management. Today, after almost 26 years I once again stand in PJ Hall to accept an honorary degree with immense gratitude and pleasure. I collectively thank all who supported me in my career."
Ahmed graduated with a master's degree in Environmental Science this year having travelled to Bangor University to study, just as his mother had done before him.
Dr Prysor Williams, Course Director for Environmental Science at the University said,

"Masoon started at the School of Natural Science in 2018, on a BSc degree in Environmental Science. Having done sufficiently well, he was offered the opportunity to move onto the Master of Environmental Science programme, from which he is now graduating. For his Dissertation, completed during this final year of his degree, Masoon chose to focus on the impact of extreme weather events and rising seas on the erosion of small atoll islands in the Pacific Ocean. This was extremely interesting work that was done to high quality. "It has been a pleasure to have Masoon as part of the Environmental Science student cohort. We wish him well and are pleased to know that Bangor University has such an important place in the family's academic history!"