Dr Closs-Davies has been sharing her expertise in order to affect change.

As a result of her fieldwork in the summer, Sara has submitted a lengthy report to the Citizens' Advice Bureau. 

Her research in North Wales during the COVID-19 pandemic, focussed on Citizen Advice workers' experiences when helping citizens claim and manage their financial and non-financial obligations and government financial support schemes (including Tax Credits, Universal Credit, Personal Independence Payments (PIP), Job Retention Scheme (CJRS) - commonly known as the Furlough Scheme - the Self-Employed Income Support Scheme (SEISS) and debt issues). 

Among other things, her report identifies the innovative ways that Citizens Advice Anglesey have adopted to provide effective services to citizens during a crisis, and how they managed staff wellbeing during challenging times. Sara's findings help identify aspects of good practice and weaknesses within policy and government financial support schemes during the COVID-19 pandemic and their impact on charity organisations. Sara hopes that the report will feed into policy development to ultimately assist local people facing financial constraints and hardship.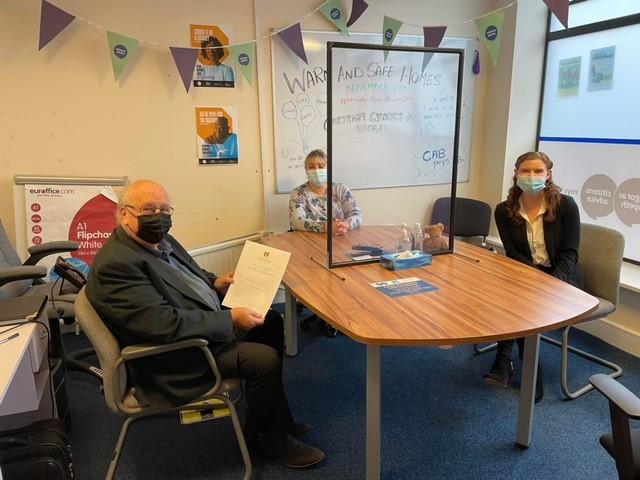 The pandemic has forced changes upon us, but the review highlighted that our new ways of working have also brought benefits to staff and clients which have speeded change and development within our organisation. We will be sharing lessons learnt within the wider CAB and with other groups.
Other work
Sara also coordinated and co-chaired a successful devolved administrations roundtable and panel session at the Tax Research Network (TRN) annual conference at Aston University. She drew together senior tax policymakers from the Welsh, Scottish and Northern Ireland Governments, and the CEO of the Welsh Revenue Authority to discuss – 'Border issues and Behavioural change - understanding the impact of changes in tax policy on taxpayer behaviour and neighbouring nations'. This was an important opportunity to discuss key themes and challenges as Governments navigate through economic recovery following the pandemic.   

With her colleague Hefin Gwilym and Bangor PhD alumnus Dave Beck, Sara  has also responded to a 'Call for Evidence from the UK Parliament's Welsh Select Committee, 'Benefits system in Wales' , as part of a review on the possibility of Wales having its own benefits system. 

Their evidence supported the call for further devolution of powers in Wales, especially those that increase the ability for Wales to tackle poverty.

Sara's contribution to the UK parliament's call stem from her research and recent publications including a book chapter 'A Study of the UK Tax Credits system: Transforming Citizens into Self-responsible Individuals at the Frontline of Tax Administration', in Contemporary Issues in Tax Research'.

Sara believes strongly in closing the gap between different disciplines in order to improve social inequality and alleviate financial hardship. As such she chairs the British Accounting & Finance Association (BAFA) Interdisciplinary Perspectives Special Interest Group, which aims promote and develop interdisciplinary research in accounting and finance and related areas as a major research area. It contributes a range of insights towards understanding and shaping the role of accounting, finance and related practices for individuals and in organisations and society. 

See Sara's profile for more information about her work and her contact details.