The Chancellor of Bangor University is Sir Robin Williams.
The Chancellor is the University's ceremonial head and one of its most prominent ambassadors who works with the Vice-Chancellor and other senior officers to promote the University's achievements at home and overseas.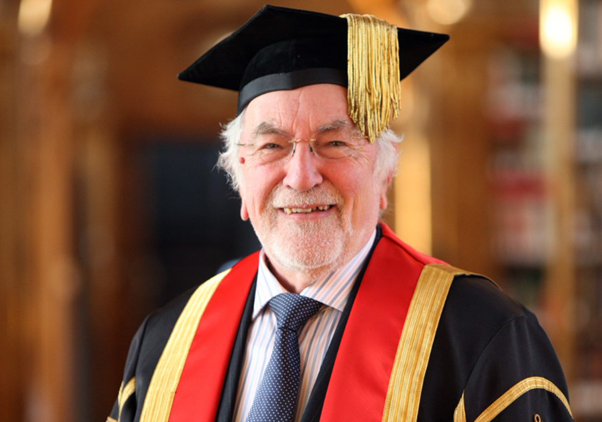 Sir Robin, who is a Bangor graduate and a strong advocate of the bilingual nature of the University, commented, "It is a huge honour to serve Bangor University as Chancellor. Coming full circle back to the institution where I began my academic career makes this a particularly special honour and I'm looking forward to being able to give something back to this great University."
Vice-Chancellor, Professor Edmund Burke added, "I am delighted to welcome Sir Robin who has an outstanding and distinguished record of public service in Wales and who will help to raise the profile of our University and advance our ambitious plans and interests regionally, nationally and internationally."
Born on a hill farm in Llanuwchllyn, Sir Robin was educated at the village school and in Bala before studying Physics at University College North Wales, Bangor, where he was awarded a BSc and PhD. He is an authority in the field of semiconductors and his research has been important in the development of digital electronics and the far-reaching changes in computing and communications. Working closely with industries world-wide, he developed new methods for the study of semiconductors and was one of the first to use synchrotron radiation to study the surfaces of solids.
Sir Robin is a former council member of the Higher Education Funding Council for Wales (HEFCW) and was chair of its Research, Innovation and Engagement Committee. He was Vice-Chancellor of Swansea University for nine years from 1994.
Knighted in the Queen's Birthday Honours in 2019 for services to higher education, research and the Welsh language, Sir Robin has served on many international and UK policy and funding bodies and on ministerial advisory groups for economic development and education in Wales.
Throughout his career Sir Robin has been supportive of the use of the Welsh language and in 2010, on behalf of the Welsh Government, he chaired the board to consider teaching through the medium of Welsh at the universities of Wales. His report led to the Coleg Cymraeg Cenedlaethol which has transformed opportunities for learning through the Welsh language.
He has regularly advised British and Welsh governments on aspects of science and is former chair of the Science Advisory Council for Wales. He was a member of the Innovation Advisory Council of Wales and was a founding fellow of the Learned Society of Wales. The 2022 National Eisteddfod Science and Technology Medal was awarded to Sir Robin for his lifelong contribution to science.
Contact Details: l.roberts@bangor.ac.uk