"My first date with my wife Chris was in the cafe at the end of Bangor Pier!"
"I was born in Everton, Merseyside. The slum back to back houses had outside lavatories, no bathrooms, gardens, or hot water. As demolition progressed my family was relocated to a council housing estate on the outskirts of my city. The new house seemed luxurious, but the area was plagued by high unemployment and social problems.
I was fortunate to attend one of Liverpool's former grammar schools. Most of my classmates left for employment after completing "O" levels, but I was persuaded by my science teachers to join the sixth form and apply for a place at university, an unusual step for most council house Scousers in the early sixties. I applied for a place at the University College of North Wales to study botany and zoology, two of my A level subjects.
I opened your letter on 28th August 1962, offering me a place to study agricultural botany, l replied the same day accepting your offer.
My upbringing had been totally urban; I had not had any links with agriculture. Concerns were minimised because before leaving home I received a hand written letter from Professor Geoff Sagar saying welcome to Bangor, to the Department, and that as my personal tutor he would provide academic support. This kindness was never forgotten; when I followed in his footsteps I sent a similar personal letter to all of my first year tutorial students.
There was a daily Crosville Green Bus service from Liverpool to Bangor. I left home with just one suitcase. The accommodation officer had allocated bed and breakfast digs with Mrs Notter in Carnarvon Road. She was very strict, no girls, one bucket of coal for winter evenings, and doors bolted firmly at 10.30pm. I stayed with her for two terms; by the time I graduated I had resided in 5 Bangor addresses.
I was welcomed to the Department of Agricultural Botany by Professor John Harper, my tutor Professor Geoff Sagar, and a wonderful Welshman Mr Dafydd Parry; three dynamic teachers.
At the end of the introductory Department meeting when coffee was being served, Professor Harper was chatting with me, "David", he said, "there is no such thing as a buke, it is a book". He had recognised my Scouse accent! From that moment I decided to learn a new language called posh English! I must add he was not being unkind, John Harper was known for his sense of humour, his bow tie and his pipe.
Compared with many of today's students I was allocated a busy weekly timetable. In addition to my main subject each first year student had to choose two subsidiary courses, my choices were agriculture and botany.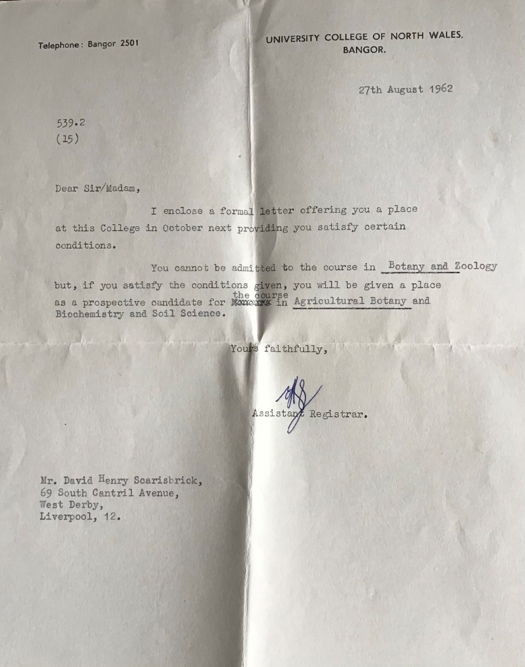 Practical classes for my agriculture course were frequently held at the College farm in Abergwyngregyn (Aber). During my second week I joined a class taken by G.M. Davis the lecturer in crop production. It was mainly attended by students wearing green wellies, greasy coats and flat hats, a sort of rural uniform. As Welsh rain cancelled the planned outside farm walk towards Aber falls, we nestled down in a hay barn where Mr Davis introduced a topic for discussion, it was entitled "The adverse effects of fat hen on sugar beet production". l was totally baffled, having emerged from a musical Beatle mad city there was only one spelling for 'beat'. He then started to ask questions, I shrank down behind a bale of hay.
On my return to Bangor I rushed into the library to resolve the link between fat hens and musical terminology. Logically, I went to the poultry section to investigate pregnant hens!
It was the beginning of a huge learning curve; by mid-term I was more confident and willing to question the agriculture students in my class. I never did purchase green wellies during my three years at Bangor, but I did eventually finish my career teaching my own students that fat hen was an arable weed, and sugar beet is grown in Lincolnshire and Norfolk.
My two years linked to the botany department bring back many happy memories of outdoor practical classes. Dr Greig Smith was in his element describing Marram grass phenotypes on the sand dunes somewhere in Anglesey, but I never understood the ecological concepts in his famous book entitled Quantitative Plant Ecology.
I was privileged to accompany Professor Richards to damp habitats for the identification of mosses and liverworts, and to join autumn fungal foray classes with Dr Dobbs in woodlands near Bethesda.
I must mention the inspirational Mr Woodhead who insisted his students could cut perfect microscope plant sections using a cut throat razor. He became fluent in Welsh and his courses in plant anatomy and taxonomy were first class. They would be helpful to many of today's students studying plant sciences; I find it surprising that a student can achieve a first class degree in plant physiology yet have little knowledge of plant structure.
I was privileged to attend excellent lectures in three Departments. My own Department of Agricultural Botany rarely timetabled practical classes and outside visits. From our first year the student group was encouraged to carry out experimental work mainly inside glasshouses on the roof of the agriculture building. It was data collection, analysis, interpretation and a written report. Professor Harper was deliberately encouraging his students into post graduate studies and a career encompassed by research.
After leaving Bangor in 1965 I completed a PhD at Sutton Bonington, University of Nottingham. My topic was influenced by the research work of my Bangor tutor Professor Sagar. On completion, I was accepted as a junior lecturer in the Department of Agriculture, University of Cambridge. This proved to be my second major learning curve, l was tasked with assisting classes in statistics and experimental design. When the Agriculture Department closed, I accepted a post at Wye College, University of London, teaching crop production and experimental design to under graduate and post graduate students.
My first date with my wife Chris was in the cafe at the end of Bangor Pier! When our second daughter Hannah was filling in her university UCAS form I hoped she would include Bangor. She travelled quite independently to several campuses, and received several offers based on her A level results. A late invitation arrived from Bangor during November 1991, and Hannah was reluctant to make the journey. Her dad was unhappy!
Using the excuse I would like to revisit the city, I offered to take the train journey with her from Kent, stay bed and breakfast, and abandon her for her interview in the Thoday building. There were no longer separate Departments for Botany, Agriculture and Agricultural Botany, it was now the Department of Rural Resource Management.
Following a brief introductory session all of the interviewees were bussed to the Aber farm where I had first heard about fat hens. They were conducted by Dr David Wright in the Aber Valley to discuss grassland and sheep grazing. When I met Hannah after lunch she announced "Dad I'm going to Bangor"
The journey back to Bangor in October 1992 included a car packed full of clothes and technical gadgets, too much for one suitcase! We climbed Lon Pobty hill to the former St Mary's College, now a student hall of residence. I confess tears were shed when we drove away.
I was invited by David Wright to present some lectures on world oil seed crops to Bangor undergraduates. With a feeling of pride I detected my daughter grinning at me in the Thoday lecture theatre where I had attended Professor Richards' lectures during the sixties. When Hannah graduated in 1995 in PJ Hall, her degree certificate was awarded by Professor Sagar, my tutor in Agricultural Botany. Hannah met a Welshman from Anglesey and her surname is now Jones! She is now an assistant Head Teacher in a large secondary school in Kent.
My three wonderful years at Bangor University set in place the foundation stone for my future career in Agricultural research. I was lucky that my lecturers were not pressurised by research assessment exercises. They found time to direct and support my academic progress.
If members of my Agricultural Botany class are reading this, I would love to hear from them.
Email: d_scarisbrick@hotmail.com
It looks like you're visiting from outside the UK, would you like to be redirected to the international page?