I guided the team to the wooden spoon in the UW Championship!
"Seeing the obituary of Sir John Thomas FRS brought to mind how impressed we were in the mid 1960s to receive lectures from someone who had achieved a DSc. and the status of Reader at such a young age.  For my part, I gained the distinction of a pass degree (nowadays referred to as a Foundation Degree, I believe) after 4 years and as an external candidate!  After joining Shell Research without a degree and on a temporary contract I graduated from the Royal Institute of Chemistry via day release. This qualification transferred later to MRSC, Chartered Chemist.  
Moving on to Dow Chemical in King's Lynn, I was part of a multi company collaboration which was awarded a Silver Star for innovation in packaging by the Institute of Packaging and a Worldstar from the World Packaging Organisation.  I have the trophy still.  Later I was the lead author for the chapter on packaging in the textbook "Chemistry and Technology of Agrochemical Formulations".  This was another industry collaboration and it is available as an ebook.  By this time I was the European Packaging Development Manager with the rank of Senior Research Scientist working on pesticides distributed globally - or medicines for crops if you will.
During my time in Bangor, in sport I progressed from 20th reserve for the 3rd XV, to Social Secretary and then to captaincy of the 1st XV in my final year. Another case of if at first you don't....  Unfortunately I guided the team to the wooden spoon in the UW Championship and was presented with it at Cardiff Meds. Not a good day.  Winning the North Wales Sevens was a consolation though.  Many of the wooden spoon XV were to reach the UAU final at London Welsh against the ever-present Loughborough in the following year. A school friend was in the opposition.
The highlight as Social Secretary was emerging from the Castle Hotel around 5am after the club's Summer Ball, having shared a late supper or possibly breakfast with the owner.  I had defied his ban on hiring a pop group!
 
One of my abiding memories is giving a scoring pass to Geoff  Evans which bounced in the snow at Sheffield before he crossed the very white-wash.  Another is when I took Geoff in my Ford Thames van on a Sunday to Wilmslow when he played for British Universities against Cheshire.  The Scotland international Peter Stagg, 6ft 10, was in the Cheshire team.  I mention Sunday because in those days all sport including training was banned in Wales. As the pubs were also shut there was simply no excuse not to have a Sunday morning hangover!  Geoff would go on to play for London Welsh, Wales and tour New Zealand with the epic 1971 Lions.
Before going up to Bangor I had given another scoring pass which bounced to John Atkinson when playing rugby league on Sundays. John was to feature prominently in the 1968 water splash Challenge Cup Final at Wembley. He also scored 2 tries in the final 1970 Lions test in Australia. This was the last time the Aussies lost a test series to the Lions.  Incredibly John was in the same school year at the same secondary modern near my home as Ian McGeechan - later Sir Ian!  Continuing with the RL theme, in 2004 I wrote the biography of my step father-in-law, which encompassed his wartime experiences from Dunkirk to Normandy, and his rugby career which culminated in winning the 1952 Challenge Cup Final.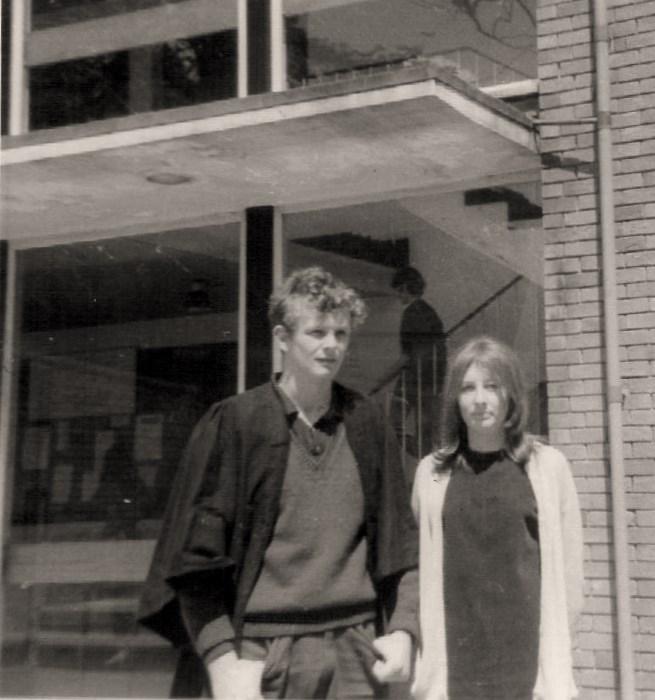 Although my wife claims not to remember, I met her first at the Freshers' Hop. I came across 4 girls dancing with one boy so armed with plenty of dutch courage I muscled in.  Shock horror when it was discovered they were from St. Mary's with an 11pm curfew! Dutifully we walked them up the hill to Bryn Kynalt (luckily not Barlows) and I was left to walk through the rain to my lodgings in Menai Bridge. The following Saturday night I found myself walking a girl back to the Normal College. That was OK as it was enroute to Menai Bridge and it wasn't raining.  It was over 2 years before I came across my wife to be again.  The second time was in the prefab shack known as Tanrallt.  Jen was dancing (again) but with only one girl this time. Mary was to wed John Tovey (M.Sc. Electronics), a rugby player who also pole-vaulted for the college.  He became my Best Man.  
I remember my time in Bangor with fondness tinged with some sadness.  However best of all it brought Jen and me together."
It looks like you're visiting from outside the UK, would you like to be redirected to the international page?