Relationship between China and Wales blooms on the shores of the Menai Strait
On her visit to Bangor recently, Welsh Government Minister for International Relations and the Welsh Language, Eluned Morgan AM, learned more about the work of the Confucius Institute in promoting Chinese language and culture within the communities of North Wales.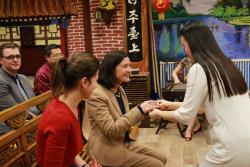 Eluned Morgan AM taking part in a traditional tea ceremony
The Institute in Bangor, established in 2012 is one of over 500 similar organisations worldwide and aims to promote China's culture, language, and heritage in north Wales as well as promoting the culture, language and heritage of Wales to the people of China. Amongst its everyday activities are providing Mandarin courses for groups and individuals and offering support in preperation for Chinese examinations. It holds Chinese workshops for groups and community organizations, as well as organising events to coincide with Chinese celebrations. In turn, it will also promote Wales to China through student exchange prorammes and support for Welsh businesses.
During her visit to the Confucius Institute, the Minister was given the opportunity to learn more about the relationship between the Confucius Institute and schools, communities and local businesses in North Wales by teaching them Mandarin for example, as well as visiting the Two Dragon Chinese Pavilion and the Two Dragon Welsh Lounge representing China's red dragon and Wales' red dragon which supports cultural exchange between the two countries. She also met Chinese staff and students of Bangor University, and enjoyed a tea ceremony and a performances of the traditional Chinese music instrument, the guzheng.
Following the Minister's visit, Dr Lina Davitt, Director of the Confucius Institute in Bangor, said:
"It has been a privilege to have the Welsh Government's International Relations and the Welsh Language Minister visiting us here in Bangor. The Confucius Institute aims to bridge the cultural and the educational exchange between Wales and China and it was a great honour for us to showcase our Chinese and Welsh murals and show the Minister the importance of the visual arts in our work. We also had a golden opportunity to share with her information about our exchange programmes with China, as well as emphasizing how the University's bilingualism here can support the work that we are doing."
There will be an opportunity for the public to learn more about Chinese culture during Chinese New Year celebrations in Bangor on February 9th. More details here: www.bangor.ac.uk/confucius-institute/
Publication date: 1 February 2019