Two Dragons Parade for Chinese New Year
Bangor University's Confucius Institute celebrates Chinese New Year on Saturday 13th February with an awe-inspiring Two Dragons Parade through central Bangor; created, performed and puppeteered by schoolchildren from Ysgol Hirael.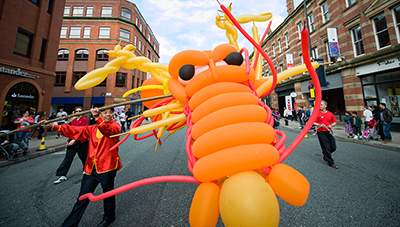 In an adaptation from Chinese legend, two dragons (one Welsh and one Chinese) will wind their way through the streets of Bangor to the sound of drums, chasing an elusive pearl swept away by a storm. The project, led by movement artist Colin Daimond and puppeteer Peter Powell, has been developing over several weeks with movement and craft workshops taking place at Ysgol Hirael throughout January with the support of professional Chinese dancer Liu Yuan (the pearl of the performance).
"We are delighted to be working with the Confucius Institute on this project" said Miss Valmai Davies, Headteacher at Ysgol Hirael.
"We have recently started a weekly Mandarin class at school and this project has really helped the children learn more about Chinese culture and tradition. The Chinese and Welsh dragons dancing together are a potent symbol of cultural exchange and we are very proud that Ysgol Hirael is able to represent Bangor at such a prestigious event."
The parade will leave Ysgol Hirael on Orme Road at 11.15am and make its way through the city centre via Glynne Road and the High Street, finishing at Bangor Town Clock at 12pm to meet Mayor of the City, Councillor Evelyn Butler, for a grand finale.
A drop-in Chinese calligraphy workshop at Bangor's Deiniol Centre Gallery will round off the day (12-4pm), and the Confucius Institute's Chinese New Year's activities will draw to a close with a special dragon puppet workshop for families at Penrhyn Castle on Saturday 27th February (11am-4pm).
More information about the event can be found here.
Publication date: 26 January 2016