An important talk on the Holocaust
Thursday evening, 1 February 2018, Dr David Tollerton of Exeter University gave a talk on 'Holocaust memory and the religious-secular landscape of contemporary Britain' as part of the School of History and Archaeology seminar series in conjunction with the School of Philosophy and Religion.


Dr David Tollerton
It was excellent to welcome David to present his fascinating paper as he is a good friend and former staff member of the School of Philosophy and Religion. It was also excellent to be among the first audiences to hear about his current and very relevant research project. With the International Holocaust Remembrance Day recently held, David discussed the increase in the number of events arranged throughout Britain during the last decade to commemorate the Holocaust. We were presented with a few possible reasons for these developments by referring to the context of the political landscape of contemporary Britain and the concept of the 'sacred'. David also discussed the plans which are underway to build a Holocaust memorial next to the Houses of Parliament and how society has responded to the intended project.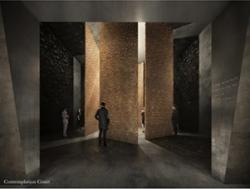 Holocaust MemorialThe talk stimulated an interesting and lively discussion among the audience.
Publication date: 9 February 2018