Bangor academic launches new publication on cashless economies
A Bangor Business School academic will this week launch a major new publication on the changing face of payments.
The Book of Payments explores the past, present and future of financial transactions, which are becoming increasingly cashless with the advancement of t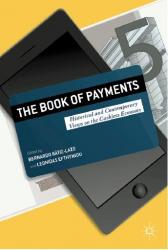 The Book of Payments, co-edited by Prof. Bernardo Batiz-Lazo, will launch with a seminar on the digital economy on Thursdayechnology.
Edited by Professor Bernardo Bátiz-Lazo, Professor of Business History and Bank Management at Bangor, and Dr Leonidas Efthymiou of Intercollege Larnaca, Cyprus, the title incorporates discussions with 44 academics and industry experts, in 33 short chapters, for an engaging debate on the lessons learnt from history, and the priorities ahead for this rapidly evolving sector.
The participating experts come from across the world, forming a mosaic of case studies representing post-industrial and emerging markets, big and small nations, large and small financial institutions, incumbent players and new financial technology start-ups, for a balanced and multi-faceted exploration.
Professor Bátiz-Lazo summarised some of the highlights of this new publication:
"By and large, the concerns of our contributors revolved around the central role depositary financial institutions have played and will continue to play in the cashless economy. Looking backwards, they have explained the long-term process through which banks established themselves as the centre of the retail payments ecosystem. Looking forward, they have considered how competition between mobile payments, digital currencies and credit cards may shape the future of the retail financial system.
"We questioned the validity of the economic conception of money, examining the social aspects and how the priorities of a community shape the development of its financial systems; and we explored the entrepreneurial challenges presented by payment systems for both established participants and new entrants.
"The roles that the government, regulators and regulation play also run throughout the book. These are not only important institutions in managing the process (and sometimes the timing) of change in retail payments, but also in framing the social processes around it".
To coincide with the launch, Professor Bátiz-Lazo and Dr Efthymiou will host a seminar on the 'Current Debates on the Digital Economy: Academic and Industry Perspectives' at the University of Nicosia on Thursday, 6th April.
They will be joined by a mixture of academics and industry professionals, including representatives from the Athens University of Economics and Business, the University of Nicosia, the Bank of Cyprus, KMPG, and Philoshopic – developers of cloud commerce technology.
The seminar starts at 3pm on Thursday, 6th April – watch it live on Youtube.
Publication date: 3 April 2017