Bangor Law School's innovative teaching showcased at HEA conference
On 21st-22nd May 2014, Stephen Clear, Mooting Skills Coordinator and Part-time Lecturer in Law, and Dr Marie Parker, Part-time Lecturer in Law, were selected by the Higher Education Academy to present their approaches to law teaching as part of the National HEA Annual Teaching and Learning Conference in Birmingham.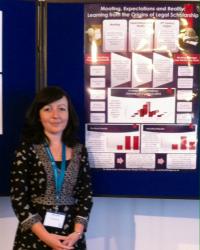 Dr Marie Parker
The conference theme, Teaching Forward, was attended by over 60 delegates and Professors from Higher Education institutions across the United Kingdom. Conference sessions focussed on Universities of the Future, Academic Activism and embracing 'Apocalyptic Innovation' in the classroom.
Stephen's presentation was entitled The Peer-Led Revolution: Achieving Internationalisation for Law Students' Benefits, which centred on his findings from the recent Bangor Law School Legal World Series.
Marie's presentation, entitled Mooting, Expectations and Reality: Learning from the Origins of Legal Scholarship, drew upon recent research conducted as part of the Legal Skills modules looking at student expectations versus the reality of studying on an LLB Law programme.
Both members of staff received positive feedback, with several delegates commenting on how they were going to adopt the initiatives at their own institutions.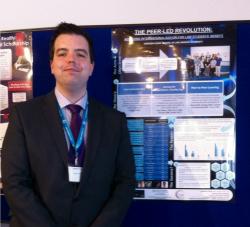 Stephen Clear
Commenting on Stephen and Marie's participation at the conference, Professor Dermot Cahill, Head of Bangor Law School stated: "the showcasing of these innovative teaching methods at the Higher Education Academy's Learning and Teaching conference is testament to Bangor Law School's commitment to teaching excellence. It is fitting that both part-time lecturers should be invited to present at this conference at such a time when the recent National Student Survey scores indicate that Bangor Law School is not only the number one ranked Law School in Wales, but also highly ranked in the United Kingdom under the NSS metric of 'lecturers are good at explaining things and helping me understand.' It is through activities such as mooting and the Legal World Series that we are able to offer plentiful practical experiences alongside academic teaching on our programmes. This has in turn enhanced the Bangor Law School student experience".
Both Stephen and Marie are now using the findings from this research in writing up their P.G.Cert.H.E (teaching in Higher Education) for certification.
Publication date: 2 September 2014