Bangor Professor appointed as President of IBEFA
Professor Santiago Carbo-Valverde has been appointed as President of the International Banking, Economics and Finance Association for 2017.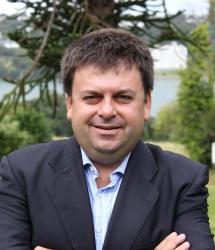 Professor Santiago Carbo-Valverde
The appointment was announced at the IBEFA's winter meeting held in Chicago last week. During 2016, Professor Carbo-Valverde served as President Elect and Program Chair of the Association's bi-annual meetings.
The IBEFA is a global organisation dedicated to the study of banking, economic and financial issues across international markets. It provides a framework for the exchange of scholarly research and ideas, promotes individual and collective research, fosters friendly relationships and collaborations throughout the world, and encourages academic exchange between study centres.
"I really feel honoured and very happy about the appointment", commented Professor Carbo-Valverde, who is Professor of Economics and Finance at Bangor. "IBEFA is an association of excellent economists and it is a very powerful network for researchers in banking and finance. I am sure this will allow to open new research projects for me and others. I share many common research interests with IBEFA economists".
Publication date: 11 January 2017