Bangor student's MA film to be broadcast on Sky
A film by a former Bangor University MA student will be broadcast to a national audience on Sky Arts and S4C in the coming weeks.
Jam Man, which was completed during director John Evan's final year as an MA student, will also be available to download on Sky On Demand services.
The short film will be broadcast as a result of being shortlisted under the Best Postgraduate Drama at the RTS Student Television Awards last year.
It also won the Best Fiction Film category at the Cardiff Mini Film Festival, and was nominated for Best Short Drama at the 2013 Celtic Media Festival.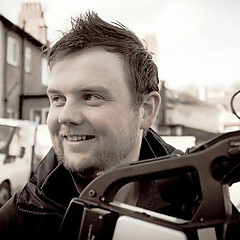 Director John Evans said that he was glad to see that the Welsh-language film would get an audience beyond Wales.
"To get it broadcast on S4C was always a hope as it is the film's natural audience, but to get in on not only a English Language channel but a channel of the calibre of Sky Arts is quite simply amazing," said John Evans.
"To have been recognised by the Welsh festivals was important, but I think it was more important to be recognised by far reaching festivals and organisations such as the Royal Television Society and the Celtic Media Festival.
"While at the awards in London, people asked both Lester and I what language it was, which is unreal when you think about it.
"In recent years Wales has produced Welsh language productions which are appealing beyond our borders and I hope this continues.
"This is certainly something I hoped for with Jam Man which if nothing else has received this amazing accolade and attention from some of the top industry professionals who undoubtedly did not mind having to read subtitles.
"There is a large foreign language market that Wales should be constantly contributing to."
John Evans has just finished directing Ward Plant for S4C and Flint Des Res for BBC One, with the second episode being broadcast this Sunday, 21 June.
He said that his experience of studying at the School of Creative Studies at Bangor University had set him on the right path to success.
"I'm very proud I went to Bangor University and studied at SCSM," he said.
"I had some create tutors in Joanne Wright, Jamie Sherry and Mikey Murray, whose knowledge and production skill was invaluable.
"I also found myself surrounded by great pool of talent amongst my alumni with notable friends being Mat Owen and Osian Williams who have had great success with their work.
"I was also very lucky to have been mentored by Llion Iwan and Geraint Ellis. Their production skill and experienced, and knowledge of the Welsh Media Industry gave me a great understanding of what is needed to achieve. To both Llion and Geraint I will be eternally grateful."
Publication date: 22 June 2015