British Science Association | July 2017 newsletter
Seven top researchers recognised ahead of British Science Festival
The British Science Association has announced the winners of its prestigious Award Lectures for 2017. Seven top UK researchers have been recognised for their cutting-edge research after a competitive selection process.
Congratulations to Dr Emily Cross (Bangor University) for winning the Jacob Bronowski Award Lecture for Science and the Arts!
They will join an illustrious group of Award Lecture recipients that includes Professor Brian Cox (winner in 2006), Maggie Aderin-Pocock (winner in 2008), and Richard Wiseman (winner in 2002).
Read More:
http://british-science-association.org/1SS9-52H4F-8EBSMALECF/cr.aspx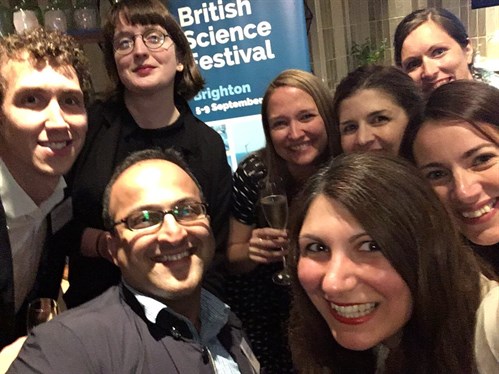 Ivvet Modinou (Director of British Science Festival) takes a selfie with all the winners at the Festival programme launch party.
Publication date: 31 July 2017