British Science Association Newsletter | November 2020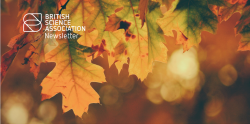 We are very pleased to announce that the BSA will be launching a new grants programme in January 2021. Called 'The Ideas Fund', the programme will build connections between communities and researchers through funding and support.
Meet our Honorary Fellows, the COVID-19 edition
Our 2020 cohort of Honorary Fellows have been announced and so, accepting the prestigious accolade this year are: Professor Faith Osier, Mona Chalabi, Professor Devi Sridhar and Dr Xand van Tulleken!
Read More: https://british-science-association.org/1SS9-74QA0-1C3AF9F6B55C94A4BSMALE43B00B40528A14D2/cr.aspx
Publication date: 20 November 2020