Cumberland Lodge Scholarship Scheme 2017 - 2019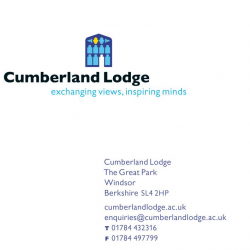 Every year, Cumberland Lodge offers first and second year doctoral students studying at universities in the United Kingdom the chance to develop skills in communication, public engagement and interdisciplinary collaboration through a scholarship scheme.Cumberland Lodge is an educational foundation that exists to promote the exchange of ideas and critical thinking on issues of social cohesion. We specialise in equipping and inspiring people to engage in constructive dialogue on the causes and effects of social divisions, to help people build more tolerant, peaceful and inclusive societies.
We foster learning and creative thinking through:
Subsidised student study retreats for students in higher education
Conferences, lectures and seminars with leading figures from public life
Mentoring schemes and scholarships for doctoral students, international students and early career researchers
Schools workshops
Educational and cultural events for the local community.
The Lodge focuses on engaging people from different backgrounds and perspectives in constructive dialogue across social, political, academic, religious and professional boundaries.
Designed for doctoral students studying in the UK to fit around their university studies, the scholarship invites the six successful students to take part in the Lodge's conference programme, which focuses on tackling social divisions through promoting creative thinking and inclusive dialogue. Scholars will benefit from the experience of engaging in challenging cross-disciplinary discussions and will receive training in communication and public engagement, working collaboratively, and sharing their experiences and research with different audiences. They also enjoy Cumberland Lodge's excellent facilities and will receive remuneration for travel expenses.
The scheme was successfully launched in 2014 and we are now looking to recruit the fourth cohort of six scholars to join Cumberland Lodge from 2017 to 2019. We would be most grateful if you could forward the details to anyone you think might be a suitable candidate. Applicants must have the support of their university and be able to commit to a two year programme which involves attending at least two events at the Lodge each year, as well as our Annual Lecture, and an annual Scholars Retreat. It is likely, therefore, that candidates will currently be first or second year doctoral students.
In particular, we are looking to appoint scholars who, through their academic work and/or other activities, demonstrate a commitment to working in some way for 'the betterment of society'. We are not looking for candidates who display only academic excellence, but those with a blend of academic ability, interest in ethics and society, and personal qualities which mean they would benefit from an association with the Lodge and its activities.
The deadline for applications is Friday 31st March and shortlisted candidates will be interviewed via Skype inthe week commencing Monday 8th May.
Successful applicants will join the Lodge at the Scholars' Induction Retreat from Friday 8th to Sunday 10th September.
Please find attached below a leaflet and further details about the scholarship.
Further information, testimonies from previous scholars, and our application form can be found at http://www.cumberlandlodge.ac.uk/scholarshipscheme.
Related documents:
Publication date: 7 March 2017