Editions by Bangor scholar performed in the Czech Republic
Rare gems by Jacobus de Kerle (1531/2-1591) could be heard in concerts in Brno (St Leopold's, 4 April) and Rajhrad Monastery (6 April), devoted to works by composers from the Imperial Chapel. Under the expert direction of Vladimír Maňas (Masaryk University Brno), Ensemble Versus (with guests Martina Komínková (flute), Richard Šeda (cornetto and flutes) and Tomáš Lajtkep (tenor and bass trombone) performed Kerle's motets Media vita and Adoramus te Christe, both edited by Christian Leitmeir, the leading authority on the Flemish composer.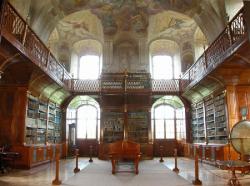 Library Hall of Rajhard Abbey
The concert Holy Week in Rajhrad aroud 1600 grew out of the interdisciplinary research project, which explores the Benectine Abbey of Rajhrad as a cultural phenomenon. The magnificent library of this monastery houses rich treasures of codices, including a significant collection of music from the late 16th century, with a strong emphasis on Imperial musicians.
Maňas and Leitmeir, who are both founding members of the research network Musica Rudolphina, joined their hands to revive two exquisite works by Jacobus de Kerle, who served as Chaplain in the Imperial Chapel of Rudolf II from 1582 until his death in 1591. The motet Media vita ('In the midst of life we are in death'), based on the eponymous cantus firmus, was first published in Kerle's most successful collection of motets Selectae Quaedam Cantiones Sacrae (Nuremberg, 1571). The devotional work Adoramus te Christe (We adore Thee, O Christ), traditionally placed within the context of the Stations of the Cross, appeared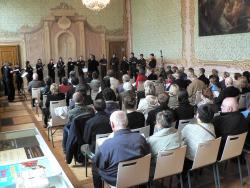 Ensemble Versus at Rajhard Abbey, 6 April 20141585 in Prague with a dedication to the newly elected Pope Sixtus V.
Live recordings of these works can be found here:
Jacobus de Kerle, Media vita
Jacobus de Kerle, Adoramus te Christe (first modern performance)
Publication date: 24 June 2014