Employability: not just about getting a graduate job...

The College of Health and Behavioural Sciences Careers & Employability fair was held recently at Reichel Hall to give students advice on securing long-term employment, applying for jobs, and realising their career potential.
The event, which was attended by over 200 students from the Schools of Sport, Health and Exercise Sciences, Medical Sciences and Psychology, was an opportunity for students to listen to many alumni from the school now working in a variety of careers relevant to their field of study and speak to graduate employers from organisations such as the Medical Corps, CAIS, Citizens Advice, Aldi, Santander and Alzheimers UK.
Dr Julian Owen, Lecturer from the School of Sport, Health & Exercise Sciences and employability lead for the school commented "it is vitally important for our students to gain first-hand knowledge of the different career pathways available to them, particularly from some of our ex-students, and how their degrees and the employability opportunities we offer at Bangor University can help them to achieve their goals."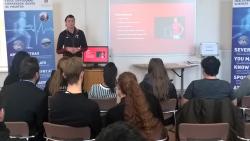 Welsh Women's Rugby Captain and WRU Regional Rugby Coordinator Rachel Taylor
Sport science-related speakers included practitioners from the fields of sport development and coaching, cardiac rehabilitation, respiratory physiology, elite sport research, sport science support, strength & conditioning, outdoor enterprise and teaching.
Employability Fair Programme
Publication date: 25 November 2016