Head of School appears on BBC's 'Dragon's Eye'
On 28th June 2012, Professor Dermot Cahill, Head of Bangor Law School and Director of the Winning in Tendering project, appeared on the BBC's weekly Welsh politics programme Dragon's Eye. The programme also featured interviews with Cheryl Gillian MP, Westminster's Secretary of State for Wales; Emma Watkins, Director of CBI (the Confederation of British Industry) Wales; Ruth Jones, from Jones Bros Civil Engineering UK; and Jane Hutt AM, Finance Minister for the Welsh Assembly.
Professor Cahill was invited by the BBC to be interviewed in order to share some of the insights from the Winning in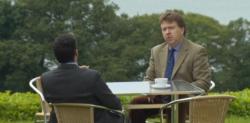 Tendering project, particularly in relation to removing barriers for SMEs (small and medium enterprises) in engaging in the public sector tendering process.
The Dragon's Eye feature came about after the CBI reported that Welsh businesses are missing out on over £2 billion public sector contracts, with 52% of the total number of procurement contracts currently being awarded in Wales. Emma Watkins, Director of CBI Wales, stated that this was because of the "Welsh Government's ideological antipathy and opposition" and she branded the problems associated with the shortfall in public contracts going to Welsh businesses as being both "ideological and political." According to the CBI, if the Welsh Government used more Welsh companies, it could create over 20,000 much needed jobs. The CBI commented on how half of all public sector work going elsewhere means that Wales is missing out on a key financial injection of money, that could be used to grow businesses, create jobs and drive the economy forward.
In response to Emma Watkins' remarks, Cheryl Gillan MP, Secretary of State for Wales, stated that there was "no doubt about it, the ideology and the state of policy of the Welsh Government is to deliver through the State, and that is such an old fashioned idea…The Prime Minister wants to open up public services…and…this is what the UK Government want to do." She continued by commenting on how the UK Government want to see more of an open door policy toward businesses delivering public services in Wales. Talking on the show, Ruth Jones, from Jones Bros Civil Engineering UK, said that Scotland is a lot more lucrative market, with fewer delays in the planning process for construction, and easier bidding systems.
The show accredited Professor Cahill and his team with the recommendation that all contracts over £25,000 be advertised on the Sell2Wales website as a matter of course, not as an optional choice. In his interview, commenting on the current challenges facing Wales, Professor Cahill stated that "there needs to be a change of emphasis as to how the purchasing power of Welsh Government and Councils operates. The tax payer needs to always get value for money. That is vital. But the key performance indicators by which procurement officials are judged are usually just focused on that alone. If the key performance indicators were different, the way they purchase could be different, which could bring much more benefits for Wales"
Jane Hutt AM Finance Minister denied the CBI's claims, stating that "Wales is moving in the right direction." In relation to the 52% figure, Jane Hutt said it "is progress from 35% in 2003" and that "for every 1% you get another 1,000 jobs for people in Wales. We want to improve and progress. SMEs are benefitting from Welsh Government investment" and that such is "bringing huge opportunities for Welsh businesses."
Within her interview, Minister Hutt referred to the Barriers to Procurement report co-authored by Professor Cahill and his team as "excellent research." She said that "the focus was firmly on reducing and removing barriers to procurement and easing the way you bid through the pre-qualification process." In her closing remarks she referred to how Professor Cahill's report "played an important part in assisting the Welsh Assembly Government", and that he was amongst the "key players" for Wales.
Since Professor Cahill's appearance on the BBC One programme, messages of support have been left from Welsh organisations supporting the views he expressed on the programme. HWB Cymru wrote "Dermot very good, as usual – he made more sense than the questions on the programme!"
To stay up-to-date with the latest news from the Institute for Competition and Procurement Studies and Winning in Tendering team please follow us on Twitter – @ICPS_Bangor.
Publication date: 1 August 2012