Head of School Opens exciting new exhibition at Gwynedd Museum and Art Gallery
Professor Helen Wilcox, Head of the School of English Literature at Bangor University, officially opened the 'Cataloguing the Other Delights' exhibition by Emma Hobbins at Gwynedd Museum and Art Gallery last Saturday. The exhibition is a modern 'cabinet of curiosities' comprising drawings, book arts, paper sculptures and designs. Professor Wilcox said of the exhibition: 'Emma Hobbins's work is witty and exquisitely detailed, viewing life itself as a fascinating museum of fragments.
Emma has been associated with Gwynedd Museum for a considerable time; she catalogued the collections when the museum moved into its current home in the Canonry in the late 1970s.
Her exhibition is appropriately the final temporary show before the museum moves across the road into the former Bishop's Palace.' Professor Wilcox is Chair of the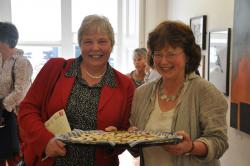 Head of School, Helen Wilcox (left), and Emma Hobbins (right) pictured with a tray of Emma's homemade biscuits at the opening of 'Cataloguing the Other Delights'university's Cultural Affairs Task Group and a member of the Museum Project Group – bringing together representatives of the County Council, the University and the Museum staff – which helped to secure a major grant from the National Lottery Heritage Fund for the refurbishment of the historic Bishop's Palace in Bangor. This exciting new home for Gwynedd Museum and Art Gallery is due to open later this year.
Meanwhile the exhibition of Emma Hobbins's work can be viewed at the Museum and Art Gallery in the Canonry, Ffordd Gwynedd, in the centre of Bangor. The museum is open Tuesdays to Fridays 12.30 – 4.30 and Saturdays 10.30 – 4.30. Entrance is free.
Publication date: 27 April 2015