Lecturer wins national award for mooting research
Stephen Clear, Lecturer in Law and Bangor Law School's Mooting Coordinator, has been awarded the prestigious Stan Marsh Prize at this year's Association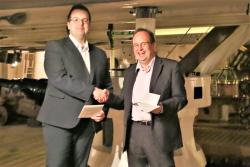 Stephen is presented with his prize by Robert Hiscocks, Treasurer to the Association of Law Teachersof Law Teachers' annual conference, which took place at Portsmouth University earlier this month. Stephen scooped the award for his poster presentation entitled: "Is This the Real Life, Is This Just Fantasy? Mooting, Employability and Expectations."
Now in its 52nd year, the Association of Law Teachers (ALT) is a highly-regarded international community of academics, professionals and practitioners engaged in legal education research. The aim of the group is to inspire and celebrate excellence in the teaching of law, and to share the understanding and practice of legal learning.
This year's conference, with the theme 'Foundations and Futures', brought together academics and practitioners from England, Wales, Scotland, Ireland, Canada, New Zealand, Australia and Hong Kong, many of whom presented posters and papers across the two days of events.
The Stan Marsh Prize is presented to the best paper and best poster. Stephen was awarded first place for his poster and was commended for his extensive pedagogical underpinning, engaging design, and coverage of research ideas and messages. His findings on undergraduate students' expectations and experiences of mooting at university, and how these shape career aspirations, will now be prepared for publication.
Stephen was presented with his prize on board the HMS Warrior (a former 40 gun steam-powered armoured frigate ship) by Robert Hiscocks, Treasurer to the Association and Head of Academic Quality Assurance and Compliance at BPP Law School, London. Amongst the attendees at the prize-giving ceremony was one of the country's most famous 'miscarriages of justice' barristers, Michael Mansfield QC – counsel to Stephen Lawrence's family, families in the Hillsborough Inquest, victims of the Bloody Sunday Inquiry, the McLibel cases, and the inquest into the death of Princess Diana.
During the conference, Stephen also presented a paper with Dr Marie Parker, Lecturer in Law, on international and home students' expectations of studying law at university. Entitled 'Home v International Law Student Expectations: Understanding and Embracing Internationalisation within the Classroom to Facilitate Peer-to-Peer Learning', also reached the final stages of the Best Paper Prize, and was commended by attendees.
Professor Dermot Cahill, Head of Bangor Law School, commented:
"This award for Stephen and Bangor Law School recognises the enormous strides in mooting techniques and research here at Bangor. Having hosted two rounds of the European Moot in the past, and now with our dedicated courtroom with its virtual mooting facilities, Stephen and his colleagues continue to coach teams to ever-greater success, as well as studying the art of mooting and contributing towards each mooter's personal and academic development.
"In making this award to Stephen, the National Association of Law Teachers recognises his exceptional talents in the mooting sphere, and he is a most worthy recipient of this year's prize."
In relation to Stephen and Marie's success in showcasing innovative teaching research at the conference, he added:
"Such recognition for Bangor's lecturers, at such a prestigious international gathering of academics, is testament to the high quality teaching research which is taking place within Bangor Law School".
Publication date: 27 April 2017