Medical Sciences PhD student awarded Excellence Achievement Award by the Saudi Arabian Ambassador
Othman Alzahrani, a 3rd year PhD in Molecular Biology and Genetics was one of just 78 (of the 15000 Saudi students in the UK) to be awarded an Excellence Achievement Award from the Kingdom of Saudi Arabia. In recognition of this distinction Othman's name will be engraved on the roll of honour board in the Saudi Arabian Embassy in London. The award ceremony was held at the Saudi Embassy in London recently and Othman is pictured here receiving his certificate from HRH Prince Mohammed bin Nawaf bin Abdul Aziz Al Saud, the Saudi Ambassador to the UK.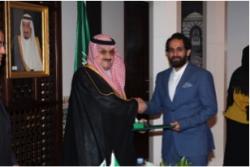 Othman receiving his award from the Saudi Ambassador to the UK

Othman's work is aimed at understanding the molecular basis of a potential cancer drug target that not only has a function in oncogenesis, but also in regulation of behaviour. He recently published some of this work in a prestigious cancer journal and presented the work at a poster in Japan. Othman's PhD is funded by his home university, The University of Tabuk, and he will be returning to Tabuk to establish a new research group in Molecular Biology when he has finished his research at Bangor.
Dr Ramsay McFarlane, Director of Research for the School of Medical Sciences remarked, "Othman is a dedicated and hard working PhD student whose research is very promising and I am delighted that this contribution to the cancer research activity at Bangor University has been recognised by the Saudi Arabian Government. Once he completes his PhD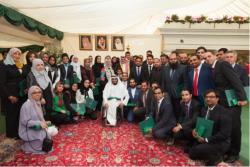 Othman with other award winners at the embassy he'll be returning to Tabuk and his experiences at Bangor will provide an excellent foundation on which he can build the Molecular Biology research capacity there and I hope it may lead to future collaborations between Bangor and Tabuk."
Publication date: 10 October 2016