Mindfulness in Society Conference: delivered by Bangor University's Centre for Mindfulness Research and Practice
Bangor University's Centre for Mindfulness Research and Practice hosted a scientific conference in March 2013 in Chester entitled 'Mindfulness in Society'. It was a three day conference with additional pre and post conference day long institutes.
582 people came with delegates from many European countries, and some from Australia and the States. Keynote presentations were given by Professors Mark Williams, Jon Kabat-Zinn, Shauna Shapiro and Willem Kuyken. The conference included some important explorations on Health Economics led by Professor Rhiannon Tudor-Edwards, on the implementation of mindfulness-based approaches in the UK health services led by Professor Jo Rycroft-Malone, on the emerging field of the cognitive neuroscience of mindfulness led by Dr Dusana Dorjee and on the application of mindfulness training in primary and secondary schools led by Sarah Silverton in collaboration with the Mindfulness in Schools Project and Ysgol Pen y Bryn in Colwyn Bay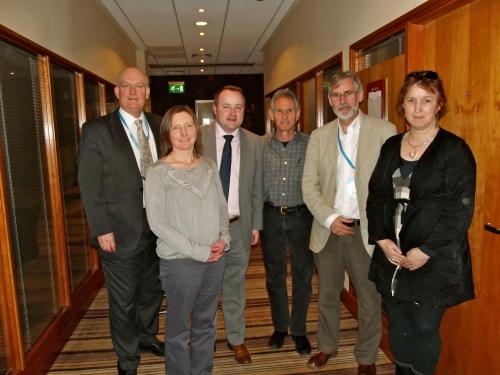 Chris Ruane MP for Vale of Clwyd gave an inspiring pre dinner talk on the main evening of the conference, and Darren Millar AM and Shadow Minister for Health joined conference speakers for lunch and for the final keynote. On the back of the conference Jon Kabat-Zinn visited parliament and No.10 to talk to MPs about mindfulness and to speak at the launch of Lord Layard's Action for Happiness event.
Mindfulness is a form of mental training that develops sustained attention. Rather than simply allowing the mind to wander and worry, mindfulness training involves cultivating the capacity to 'attend to' whatever is happening in ways that are purposeful and well-balanced. This ability to be 'in the present moment' releases the mind from habitual, ruminative patterns that lead to anxiety, and enables more intuitive and creative responses to new challenges. Given the centrality of attention in all mental functioning, such training has significant implications for mental health, self-regulation and education.
As Rebecca Crane, Director of Bangor University's Centre for Mindfulness Research & Practice explains: 'Presentations at the conference show how mindfulness is being taught and researched in a wide variety of societal contexts including the health service, workplaces and education settings. There is strong interest in the potential for individuals and for society to develop greater levels of well-being, compassion, kindness and happiness. Research into mindfulness offers exciting opportunities to learn about the role of the mind in our well-being and our ability to foster our own well-being through mental practice.' Chris Ruane, MP for Vale of Clwyd said: 'Recent Parliamentary Questions I have put down show that the number of prescriptions issued for anti-depression has shot from 9 million in 1991 to 47 million in 2011, and that 32.3% of young people between 16 and 25 suffer from one or more psychiatric conditions. These are truly horrendous statistics. Mindfulness-Based Cognitive Therapy was approved by the National Institute for Clinical Excellence in 2004. It has no side effects, it puts the individual in control and is a cheaper treatment than anti-depressants; yet only 5% of GPs refer patients for this treatment. I hope this conference will raise the issue of the potential of mindfulness for those who suffer with mental illness and as a way of flourishing for the population as a whole."
Bangor University's Centre for Mindfulness Research and Practice was founded following the publication of seminal research by Professor Mark Williams at Bangor University in 2000, which evidenced that Mindfulness-Based Cognitive Therapy – an 8-week course that integrates mindfulness with cognitive therapy – halves the expected rate of relapse in people who have had several depression episodes. Subsequent research confirmed this result, and the approach was recommended for use within the health service by NICE for this group of people. The centre has developed a large and well respected post graduate and continuing professional training programme to enable professionals to train to integrate and teach mindfulness-based approaches in their work, and has an on-going research programme investigating the applications of mindfulness in society.
Publication date: 17 April 2013