Multi-national conference enables positive debate about child migration issues
The Children Displaced Across Borders project is an initiative of the Wales Observatory on Human Rights of Children and Young People (Bangor and Swansea Universities), the Centre for Migration Policy Research (Swansea University) and the Graduate College of Social Work, University of Houston.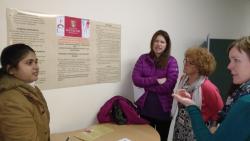 Bangor LLM student Elakkiya presents her poster to attendees at the conference
A conference was held in Swansea and Houston Universities on 18-19 November 2016, sponsored in part by a Bangor University ESRC Impact Acceleration Account (IAA) Global Challenges Research Fund (GCRF) Impact Grant. The Conference enabled people to come together from different disciplines, continents, organisations and groups to share knowledge and experience about displaced children and about responses to current trends and crises. It was a chance to learn from each other and to establish and strengthen links for research, education, advocacy and community engagement. A Storify with pictures from the conference is available online.
Bangor University LLM students, Elakkiya Pandian and Conrad Obol Oroya, presented a poster at the conference on their ongoing research into children¹s rights, and won first prize in the postgraduate student poster category.
A public information event on Children Displaced Across Borders will be held in Deiniol Library on Friday 2 December from 12.30-2 pm. All are welcome to attend. For further information, please contact: y.mcdermott@bangor.ac.uk
Related documents:
Publication date: 30 November 2016