Pico power protects oldest Welsh Bible
A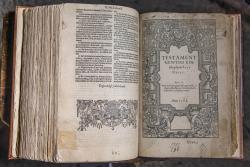 One of only 24 known copies for the first Bible to be translated into Welsh.: © National Trust Images / Iolo Penri Photography 431-year-old Welsh Bible is staying warm this winter, following the installation of a small pico hydro turbine by the National Trust at Tŷ Mawr Wybrnant in Snowdonia, which will help manage humidity levels in the 16th-century farmhouse.
Through collaboration with Bangor University and Trinity College, Dublin, the renewable energy scheme is helping the charity protect one of the nation's most culturally important manuscripts more sustainably, with the Bible dating back to 1588 and one of only 24 known original copies left, it's housed at the birthplace of its translator, Bishop William Morgan.
The rare Bible is particularly sensitive to moisture in the air. To preserve it the Trust ensures the humidity levels are controlled by adjusting the heating. In recent years the charity has seen an increase in electricity usage in order to maintain similar humidity levels.
Climate Change Advisor for the National Trust, Keith Jones explained: "Earlier this year we experienced the worst flood at Tŷ Mawr Wybrnant in living memory and that extra moisture meant we needed to use more heating to ensure the humidity levels didn't get too high. Climate predictions indicate likely increases in the severity and frequency of rainfall in the area. This small-scale technology is allowing us to adapt to future changes more sustainably."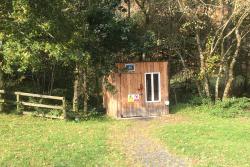 The pico hydro turbine shed is clad with larch from nearby National Trust estate: © National Trust Images / Iolo Penri PhotographyAt Tŷ Mawr Wybrnant, the Trust sought a more sustainable approach with help from the Dwr Uise Project, which is supported through the Ireland-Wales Co-operation Programme 2014 (funded by the European Rural Development Fund) and includes researchers from Bangor University and Trinity College, Dublin. Having considered all options for more efficient heating that is also sympathetic to a grade II listed building, they opted for a 4.5kW hydro, known as a 'pico' hydro scheme, for its small size.
Keith Jones added: "The hydro will only borrow a set percentage of the water from the stream once the water levels reach a certain point. This means we are generating the electricity when we most need it, when there's more moisture in the air after rainfall. The energy is consumed directly onsite, solely for the conservation of this priceless Bible collection."
Dr Prysor Williams, team lead at Bangor University's School of Natural Sciences, who are tasked with calculating the impacts of installing the technology, said:
"As well as the obvious financial savings, we expect a project like this to lead to greenhouse gas emission savings of 5.2 tons per annum."
Dr Aonghus McNabola, Associate Professor in Engineering at Trinity and the Dŵr Uisce project lead, said:
"We have, alongside our partners at Bangor University, been working closely with the National Trust on this project over the last two years. We are hopeful that we will further develop this exciting pico hydro technology and that it may be used more widely in the not-too-distant future."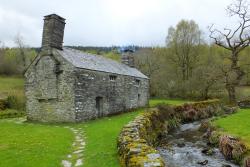 Tŷ Mawr Wybrnant, near Betws y Coed, is home to the first bible translated into Welsh as part of a collection of bibles in over 100 different languages. : © National Trust Images / Iolo Penri Photographyn a bid to halve its fossil fuel consumption by 2020, the National Trust has installed a number of energy efficient and renewable technologies across Snowdonia including biomass boilers and heat pumps at farms, holiday cottages and offices. This is the eighth hydro-electric scheme the Trust has installed in the area, the first of which was at Hafod y Llan and at 600kW was the largest.
The original Welsh Bible is on show alongside over 200 Bibles, many of which have been donated to the National Trust by visitors. The collection includes Bibles in over 100 different languages.
Keith Jones, concluded: "We're incredibly lucky and privileged to have an original 1588 Welsh Bible at Tŷ Mawr Wybrnant. When we re-open in the spring, visitors will be able to learn about how such an old Bible is being protected by new technology. In essence, water is actually helping us solve a problem it's creating in the first place, so there's some kind of poetic justice there!"
Tŷ Mawr Wybrnant has recently closed for winter and will re-open in the spring.
Publication date: 22 November 2019