Prof Dean Williams influences NICE Guidelines
Diabetic foot disease is an ever increasing problem and a major burden on healthcare provision worldwide. Foot ulceration is associated with serious complications including loss of limb that have devastating personal and socio-economic implications. The cost of diabetic foot care in England in 2010–2011 was estimated at £580m.

In 2012, as part of an on-going service improvement in diabetic foot services, the Department of Vascular Surgery at Ysbyty Gwynedd and the School of Medical Sciences, Bangor University, published a paper in an international journal on the impact of the service. The paper demonstrated that the service had achieved a reduction in lower limb amputations comparable to the very best in the World.

In 2014, the department developed a wound healing service and began a novel specialist outreach nurse service to supplement the diabetic foot provision.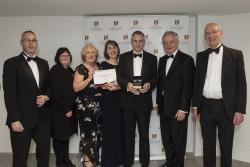 Prof Willilams holds the shortlist award standing next to the VC and other SMS Collegaues

This multi-disciplinary approach to provision of lower limb ulcer care aimed to facilitate a continuity of provision from the hospital and in the community and is an excellent example of prudent healthcare as championed by the Welsh government.

In 2015, new National Institute of Health and Clinical excellence (NICE) published guidelines on diabetic foot problems in which the paper from Bangor is cited twice for the structure of diabetic foot services and escalation of care. Further in 2015, a study from the National Rehabilitation Centre in Rookwood, Cardiff, demonstrated that the Betsi Cadwaladr University Health Board had the lowest number of diabetic major amputations in Wales, with Bangor having the lowest rates.

BCUHB healthcare provision in the field of diabetes and lower limb disease has been recognised as being world-class and an example of best practice and demonstrates that staff from Bangor University and the Health Board are now at the forefront of modern medicine influencing practice both nationally and internationally. This was recently recognised by the University where it was shortlisted for the Impact and Innovation Awards 2015, which are designed to recognise research that has benefited local and global communities.
Publication date: 8 December 2015