Research Excellence Awards Event 2016
A new Research Excellence Awards event has just been held at Bangor University to celebrate the high standard of research at the University.
The inaugural Awards shone a spotlight on some of the University's outstanding research teams and individuals.
The Awards were devised to celebrate the individual achievements of academic staff at different career points, including rising stars, a Doctoral student and a Lifetime Achievement Award.
The Doctoral student research Excellence Award was presented to Dr Claire Szostek, School of Ocean Sciences for her work with English Channel fishermen to understand sustainable levels of fishing in the scallop fishery there - Forging industry-science partnerships and filling critical knowledge gaps for a high value UK fishery.
The UK fishing fleet lands scallops worth in excess of £69M y-1. A significant lack of data about the economic and biological sustainability of the fishery led to the formulation of this PhD project, funded by the UK fishing industry. Throughout the project Claire actively engaged with many key stakeholders across the seafood industry, including fishermen and government bodies. Claire spent a substantial amount of time meeting fishermen, gathering data to quantify spatial patterns of scallop fishing. This resulted in the first ever quantitative map of the distribution of inshore scallop fishing effort across the English Channel. Through genetic analysis of scallop tissue samples Claire was able to reveal key evidence about linkage between, and isolation of commercially important scallop beds. Considerable time at sea on board commercial scallop vessels also enabled Claire to quantity bycatch across the fishery. The output includes two published papers with a further two under review and forms a critical new evidence base to inform effective management of this valuable fishery.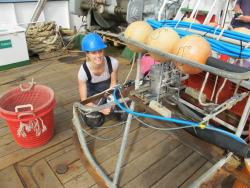 Dr Claire Szostek
Dr Szostek said: "I feel extremely proud to receive this award and very privileged to have had the opportunity to take on this project, which has provided a hugely diverse range of challenges and opportunities. The successes and novel research outputs that we have achieved are a testament to the positive relationships we have developed, and maintain, with the UK fishing industry. Many fishermen provided time, expertise and funding to enable the gathering of high quality scientific data. I thank my brilliant supervisor Professor Michel Kaiser for his vision, expertise and continual advice and support throughout. Bangor University has world-leading research departments and I am proud to have completed my PhD at the School of Ocean Sciences."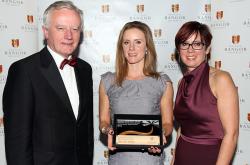 Dr Claire Szostek with Professor John G Hughes, Vice-Chancellor of Bangor University and Professor Jo Rycroft-Malone, Pro Vice-Chancellor, Research & Impact
Professor Jo Rycroft-Malone, Pro Vice-Chancellor, Research & Impact said:
"The finalists at this inaugural event are testimony that research at Bangor University is vibrant and thriving. It's a delight to reward and value our very best researchers and to inspire others."
Following the inaugural Research Excellence Awards, these new Awards will be held on alternate years with the University's Impact & Innovation Awards.
Publication date: 7 December 2016