Scan and Deliver
The library is offering a TRIAL Service called 'scan and deliver'.
This trial will be open to staff and research postgraduates only.
If you are not able to visit the library to take advantage of our 'click and collect' service but need digital access to a book chapter or a journal article, from our library collection, we will make a scan and deliver the pdf to your email. Please note that as this service relies on Copyright Exceptions (rather than the CLA Licence) we can only supply one chapter from a book.
These scanned items would be for your 'personal research' and would not be licenced for sharing with colleagues or with students. Scans for teaching can be requested via the online reading list service.
This service is quite labour intensive as there are several copyright checks needed. Although we would hope to provide the scan as quickly as possible, our current target is to have a two week turnaround. To help avoid disappointment – you could pre-check whether the book you want is covered by the CLA Licence. Click on the image below and insert the isbn –to see if scans are permitted.

Requesting a scan is very easy. Sign into the library catalogue and find the item record. If you are not signed into the catalogue – or you will not 'see' the request link. When you open the full record of an item – you will see the 'request digitisation' link – next to the 'place hold' link: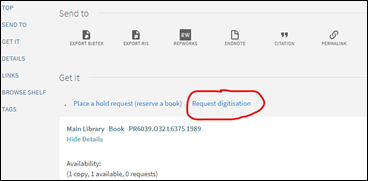 Click on the link and then complete the form – please read the copyright declaration and tick the box to confirm that you agree to abide by the restrictions. Then click on 'REQUEST'.
Publication date: 30 November 2020