School pupils synthesise drugs at Bangor
100 school pupils from north Wales and the North West of England took part in two days of Pharmaceutical chemistry at Bangor University recently.
The ChemPharma event aims to give year 12 pupils an experience of chemistry in a University setting and an understanding of how pharmaceuticals are made, illustrating the amount of analysis and testing work done before a drug can be made available. Students attended a pharmaceuticals themed workshop held in the Chemistry laboratories where they were synthesising aspirin. The experiment set for the schools is similar to one conducted by first year Chemistry Undergraduates.
Dr Nigel Lord, the Analytical Technical Manager at Quay Pharmaceutical, Shotton gave a presentation to the students about the Pharma Industry and the costs and logistics of getting drugs to market. They learnt about the structure of the pharmaceutical industry, current and future research and development areas and the range of careers available for chemistry and life science graduates. Nigel said: "It's been really great to see the next generation of scientist working in the laboratory and I hope that after today some of them will consider working in the Pharma industry in the future."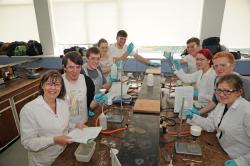 Comments from Teachers:
"Chempharma provided an excellent opportunity for students to experience independence in a University laboratory. The day really encouraged them to think for themselves and should give them confidence in the A2 practical next year." said Hayley Evans from Mold's Alun School.
"This was an amazing opportunity for young people go get stuck into real chemistry. Synthesising a chemical they are all familiar with using equipment and processes they only tend to study theoretically. A real hands-on experience." Helen Williams, Coleg Cambria, Deeside.
Dr Andrew Davies, Senior Tutor at the School of Chemistry said "The support we receive from companies like Quay Pharma enables us to host events that not only complement the school curriculum but hopefully show local pupils that there are study and subsequent employment opportunities available locally. We also received very generous sponsorship from the RSC North West Trust who have been supporting us for many years now. This money enabled us to purchase laboratory consumables used over the two days."
For further information on chemistry events for schools please see the web site www.bangor.ac.uk/chemistry


Editor's Notes:The University's School of Chemistry added the ChemPharma event to their lively school engagement programme 6 years ago and have kept the in the calendar ever since.
Schools/colleges who attended:
Alun School, Mold
Coleg Cambria, Wrexham
St David's College Llandudno
St Gerards School, Bangor
Ysgol Brynrefaill, Llanrug
Ysgol Dyffryn Conwy, Llanwst
Ysgol Emrys ap Iwan, Abergele
Ysgol John Bright, Llandudno
Ysgol Syr Hugh Owen, Caernarfon
Ysgol Tryfan, Bangor
Ysgol y Creiddyn, Pehrhyn Bay


Publication date: 1 July 2014