Shedding New Light on a First World War Classic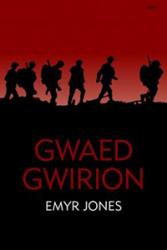 The cover of the new edition of gwaed Gwirion.On Monday, 28 July, to coincide with the hundredth anniversary of the First World War, Professor Gerwyn Wiliams will be presenting a documentary which attempts to reassess one of the best novels written about the 1914-18 international conflict.
Gwaed Gwirion (trans. 'Innocent Blood') by Emyr Jones was first published in 1965, and during the half century since then has established itself as a modern classic. According to Gerwyn Wiliams of Bangor University's School of Welsh who specialises on the literary response to the First World War, part of the reason for its success is the author's striking use of language.
"Gwaed Gwirion utilises the Welsh language as a flexible and powerful tool. And its uncompromising use of vernacular Welsh was as radical and pioneering as that contained in Caradog Prichard's seminal novel, Un Nos Ola Leuad, five years earlier."
But despite his familiarity with the text, Gerwyn Wiliams' most recent research led him into unexpected territory.
"I was forced by my findings to look at this well-established novel in a completely new light as the original celebratory programme increasingly resembled a detective story."
The programme is produced by Huw Chiswell of Cwmni Ffranc and is broadcast at 9.30 p.m. on S4C on Monday, 28 July, with full English subtitles.
Gerwyn Wiliams has also been invited to give the Coleg Cymraeg Cenedlaethol Annual Lecture at this year's National Eisteddfod at Llanelli. On Tuesday, 5 Awst in the Literary Pavillion he will discuss the background to the novel and the documentary in 'Remembering and Ficionalizing the First World War'.
Also during the Eisteddfod a brand new edition of Gwaed Gwirion will be published by Gwasg Gomer which includes a comprehensive introduction written by Gerwyn Wiliams.
Publication date: 22 July 2014