Unpublished Poems by R.S. Thomas come to light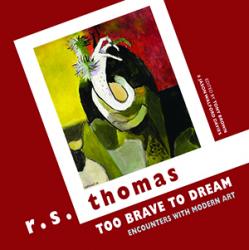 A collection of previously unpublished poems by the major Welsh poet R.S. Thomas has just been published under the editorship of Professor Tony Brown (School of English Literature) and Professor Jason Walford Davies (School of Welsh), the Co-directors of the University's R.S. Thomas Research Centre, the major archive of the poet's work.
When the poet's second wife, Betty Thomas, moved from the cottage she had shared with R.S. Thomas (who died in 2000), the books that remained on the poet's shelves were donated to the archive. As well as a number of signed editions which had been given to Thomas by important contemporary poets such as Geoffrey Hill, these books included two seminal books on modern painting: Art Now (1933) by Herbert Read, a leading art critic of the period, and Surrealism (1936), edited by Read and containing essays by key figures in the Surrealist movement. Interleaved in these two books were found three dozen handwritten and previously unknown poems by R.S. Thomas, written in response to a selection of the reproductions of modernist art in Read's two books, including works by Henry Moore, Edvard Munch, Salvador Dali, René Magritte and Graham Sutherland. The new collection, Too Brave to Dream: Encounters with Modern Art, publishes these poems for the first time, under the imprint of Bloodaxe Books, the leading poetry publishers, along with high-quality colour reproductions of the artworks to which Thomas was responding.
Professor Jason Walford Davies explained: 'The title of the volume is derived from a poem which R.S. Thomas wrote to one of those remarkable drawings by Henry Moore of people sheltering in the London Underground during the Blitz. While they sleep and dream, up on the surface survivors–air-raid wardens and so forth–are 'poking / among the remains of others / who were too brave to dream'. We have used this as the title because in many ways the poems in the collection repeatedly show a willingness to confront, without the comfort of illusions, a modern world in which old feelings of certainty have been undermined. There's a repeated sense of insecurity–of personal identity and in sexual relations, for instance–in these poems and many of them allude to a world of conflict. They are unsettled, and unsettling poems, which perhaps tells us something of the poet's state of mind in this late phase of his career. (The manuscripts suggest that Thomas's interest in these poems extended to the last decade of his life.)'
Professor Tony Brown added: 'As we have discussed in the Introduction to this new collection, although he rarely visited major galleries and collections, R.S. Thomas was interested in art throughout his life. Poems about paintings recur in his work, from his first collection, The Stones of the Field (1946), with its poem about a painting by Augustus John, to a poem responding to Paul Klee, which appeared in 1995, in the final collection to be published during his lifetime. The important influence here was his first wife, the distinguished painter Mildred 'Elsi' Eldridge. Not only was she engaged in her painting, of course, in their various homes while he wrote, but she taught art and their son has spoken of how the family used her boxes of postcard reproductions, used in her teaching, in various family card games. Thus RS was more than usually well-informed about artists and art movements'.
Publication date: 3 November 2016