Veillance
Generative Exhibition - White Box, Pontio 24 February – 12 March 2017
Lead Artist: Ronan Devlin
Project Team: Vian Bakir (academic), Ant Dickinson (sound), Carwyn Edwards (software), Michael Flückiger (graphics), Gillian Jein (academic), Andy McStay (academic)
Veillance is the result of a two-year collaborative project between academics, Dr Gillian Jein (PI), Professor Vian Bakir (Co-I) and Dr Andy McStay, with the artist and Pontio designer in residence, Ronan Devlin and his creative team.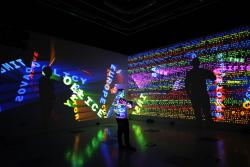 'Veillance' is a generative artwork that creatively explores issues pertaining to surveillance and transparency in our use of the internet. To celebrate and situate the work's opening to the public on 24th February 2017, Dr Jein hosted a round-table discussion with the academic and creative team at Co-Lab in Pontio. This lively event discussed the various aspects (technological, sociological, aesthetic, experiential and poetic) of the work with the audience, who were then invited to experience 'Veillance' in its first public showing at White Box, Pontio.
Click here to see a short video of the exhibition.
'Veillance' is a generative typographic artwork that visualizes and reconfigures information generated by its audience's networked devices. The work invites participants to browse the internet using colour-coded devices. Once inside the space, the audience's searches of unencrypted websites are intercepted, captured and reconfigured. In addition, this browsing identifies 'trigger words' used by UK and US global security services to identify potential suspicious activity. These words appear to float away from the screen echoing the journey that information makes from us as internet users to outside agencies. Finally, on the fourth wall there appears a real-time list of websites with which the devices are communicating; the sites that watch us while we 'watch' the web.
Through creative experimentation, Veillance (an academic term for 'mutual watching') raises questions about transparency, privacy and surveillance. The artwork seeks to intervene in and demystify the process of government and commercial data interception. Bending surveillant relations back on themselves, Veillance enables its audience to see and experience sensually relations with external entities as produced by their online activity. Beyond 'hacking' and 'hiding', Veillance works from within our everyday experience of the web in order to make this a more tangible, playful and socially interactive experience, and ultimately invites us to consider more fully our consent in the ways we watch and are watched when online.
The project was commissioned by The Space (£50,000), and its exhibition funded by Arts Council Wales (£25,000). Support was provided by Pontio Innovation.
Publication date: 8 March 2017