Visit of Professor Vera Trappmann to the School of Social Sciences on an Erasmus Teaching Exchange
Professor Vera Trappmann of Otto-von-Guericke University, Magdeburg, Germany, will be visiting the School on an Erasmus Teaching Exchange during the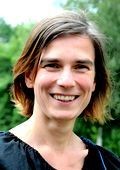 Prof. Vera Trappmannweek beginning 18 March. She is a Professor of Sociology and European Societies and her comparative research deals with labour relations, welfare and corporate social responsibility in Western, Central and Eastern Europe.
Her recent books include Business Leaders and New Varieties of Capitalism in Post-Communist Europe (Routledge, 2013) and Das Erbe des Beitritts. Europäisierung in Mittel- und Osteuropa (Nomos, 2006).
Professor Trappmann will be delivering a seminar at 12.00pm on Friday 22 March in room 1.12, Hen Goleg. The seminar, entitled 'Fallen Heroes: Working in Poland', will challenge the one-sided account of Poland as a successful transition case, by exploring the huge social costs for workers in terms of impoverishment and employment precariousness. The ambivalent role of the European Union in the economic restructuring of Poland emerges through comparisons to earlier rounds of restructuring of steel in Western Europe, Eastern Europe and other parts of the world. All are welcome to attend the seminar.
Otto-von-Guericke University is an Erasmus exchange partner of Bangor University, offering study abroad opportunities to Bangor students.
Publication date: 14 March 2013